Updated on March 12th, 2022
Blue Lock's latest chapter is nearly upon us, and with a nearing release date come leaks! That's right with the leaks for the latest chapter now out, we get to see exactly what to expect in this week's coming chapter
You can find everything you need to know about this week's chapter of Blue Lock, and more down below! From spoilers to release dates, listicles, and more you can find everything you need to know right here on Anime Senpai.net!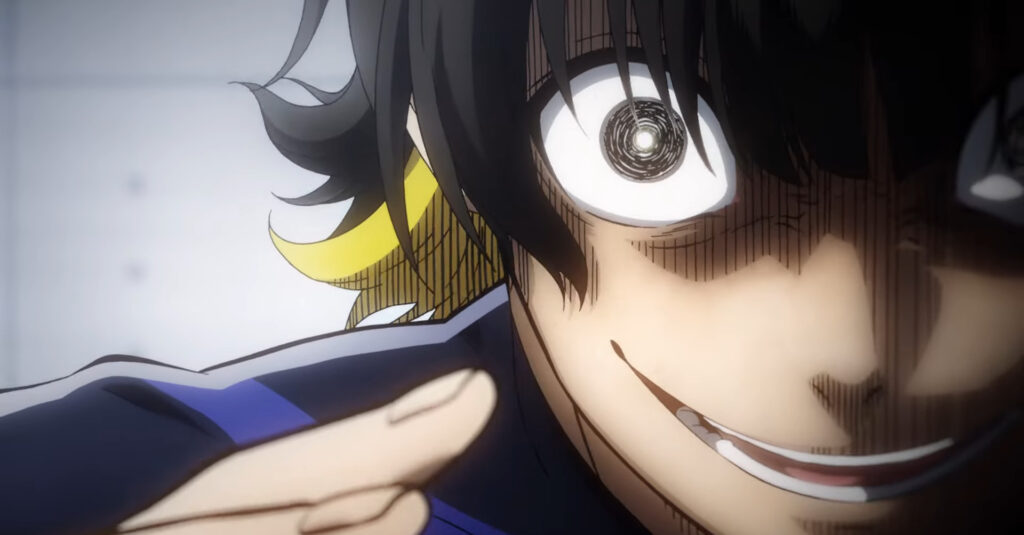 Chapter 164 Recap
Before we jump into chapter 165's spoilers, let's do a quick recap of what went down in the most recent release of Blue Lock, chapter 164, titled, 'Butterfly!' Since this will be a brief overview, I highly suggest you read the chapter yourself, wherever you get your manga from.
The chapter starts us off with Isagi rushing forward with his team, declaring that he now has 3 minutes to prove his worth! But before he can even get the ball, Noel Noa and Lavinho start going one on one against each other at the halfway line. The two stars are playing on a whole other level, one that doesn't even let small fry like Isagi and Kaiser through.
After standing by and trying to find his way in Isagi rushes forward, thinking that he has a chance. Lavinho simply greets Isagi with a smile and uses him as a wall to get past Noa. Instead of chasing Lavinho down, Noa stands by and explains the finesse of Lavinho's "Dance of Defeat" to Isagi. Once this explanation is over Lavinho scores a flashy goal, one where he got past three defenders and a goalie.
The chapter comes to its close after Kaiser lectures Isagi on his stupid play. On the final page, we see that Noel now only has around one minute left of playtime, thanks to the "Star Exchange System." Isagi promises that in this final minute, he will devour his idol, Noel Noa!
Chapter 165 Spoilers
Now that we are all caught up, let's dive right into chapter 165. Warning, however, some raws for the upcoming chapter are already out so there are confirmed spoilers below, you have been warned.
The chapter seems to kick-off where the previous chapter left us, with the German team rushing forward after the restart. However, with Noa on the field the team's entire playstyle is different, no longer does the team focus on Kaiser but rather they make sure that Noa can have his path. And have the path he does!
We watch through the adoring eyes of Isagi, as Noa goes through Spanish defender after defender. During this time Isagi is running around trying to find the optimal place to be, so he can receive a pass from Noa. But as he watches, Isagi notices two things, the first being that Noa has no need to pass, and the second, is that Isagi has no chances of devouring this superstar!
It's almost guaranteed that Noa will score a goal, but before that, he must get past his fellow superstar, Lavinho. The two start going at it again, this time much closer to the FC Barcha goal net. Lavinho orders all his teammates to stay back and defend the net whilst he handles Noa. But Lavi is no match for Noa as the German star uses his ambidextrous shooting skills to score a beautiful goal. And with that play, both superstars' three minutes are over.
With the game tied Noa subs himself out with Kunigami, but before that gives him a quick word about him being a "Wildcard," a comment that leaves Isagi confused. With Noa off, he leaves the game in the hands of Kaiser, Isagi, and Kunigami. And with that, the chapter comes to a close! The score is tied 2 – 2, meaning it's anyone's game, will the Blue Lock stars step up next chapter? We'll all find out together NEXT WEEK!
Raw Scans
Raw scans for chapter 165 are not currently available at the time this article is being written. However, if any, do come out we will make sure to update this page.
Release Date
The upcoming chapter of Blue Lock is set for release as usual. Meaning we will be able to see chapter 165 released officially on Wednesday, March 9th, 2022. As of right now, there is no word on the chapter being delayed, however, if anything is released we will make sure to keep this article updated.
Where To Read
You can buy and preview the latest chapters of Blue Lock and more officially on KodanshaComics. Doing so greatly supports the author and allows them to give us more chapters of this amazing series.
Let us know what you think of this latest chapter in the comments below. For more news about everything anime and manga, be sure to visit our main Anime Senpai page! We have new articles daily, so check it out!
We will be back next week with even more Blue Lock content so stay tuned till then.