The Shounen demographic has been a mainstay since the introduction of anime, targeting primarily young male audiences. Series within this category are known for their engaging plots, thrilling fight scenes, and stories that are easy to dive into.
"Shounen" is a Japanese term that means "young boy." While the primary target audience for this genre is young boys, it has expanded to include viewers of all age groups, reflecting the universal appeal of these exciting stories.
Every year, a multitude of Shounen anime series are released, but only a select few achieve mainstream success. Fans of anime consistently rate and rank their favorite Shounen series on various platforms, leading to the question: What are some of the highest-rated Shounen anime of all time?
To answer this, we gathered ratings from MyAnimeList and AniList, two of the largest anime databases. By combining ratings from both sites, we aimed to minimize any bias that might arise from relying on a single source. We also focused on the first seasons of anime series to ensure a fair comparison.
Additionally, we chose to exclude series like "Your Lie In April" and "A Silent Voice" from our analysis. Although these shows are highly regarded, they were omitted because they are more centered around drama rather than the typical Shounen themes.
Without further ado, let's dive right into this list.
15. Summertime Render
| | |
| --- | --- |
| Rating | 8.40 |
| Number of Episodes | 25 Episodes |
| Genres | Mystery, Supernatural |
"Summertime Render" is a mystery-centered anime series that has carved out a place for itself in the modern anime world with its captivating story. The series follows an intricate plot that may not be suitable for everyone, as it could confuse some viewers.
Though it seems like a hybrid of Shounen and Seinen genres, "Summertime Render" is still one of the best in its category. The plot revolves around a young man who returns home to attend the funeral of his childhood friend, only to find her alive during a festival, turning her supposed murder into an even greater mystery.
The story follows Shinpei, a Tokyo University student, who returns to his home island to attend the funeral of his childhood friend Ushio. During the funeral, Shinpei uncovers strange events that lead him to discover that Ushio was murdered.
Things take a more complicated turn when he encounters Ushio at a festival after the funeral. Following a series of events, he dies and is resurrected at the point when he first arrives on the island. Will Shinpei be able to unravel this murder mystery on his own?
Because Disney Plus holds the streaming rights to "Summertime Render" and the perception that the corporation has treated the series unfairly, the anime was unable to reach peak popularity. However, fans who managed to watch the series have highly rated it nonetheless.
You Might Like: A Girl Was Arrested In China For Cosplaying Summertime Rendering
14. Mob Psycho 100
| | |
| --- | --- |
| Rating | 8.445 |
| Number of Episodes | 37 Episodes |
| Genres | Action, Comedy, Supernatural |
"Mob Psycho 100" stands out as one of the premier supernatural anime series, boasting some of the most well-directed fight scenes in the genre. The series recently concluded with an unforgettable climax, and it's noteworthy that there are hardly any detractors of this series within the anime community.
The plot centers around Kageyama Shigeo, an emotionally awkward high school boy who aspires to confess his feelings to his childhood friend. To make himself worthy of her, he works diligently throughout his high school life. Although romance is not the central theme, anime conveys its unique message in various ways.
"Mob Psycho 100" follows Shigeo's daily life as he assists his mentor, Arataka, in exorcising ghosts, utilizing his natural esper abilities. Shigeo is also grappling with confusion over his future career path.
Unfortunately, his mundane life is continually disrupted by the appearance of new supernatural beings, causing him to become more emotionally detached the more he uses his esper power. Will Shigeo find emotional stability in a world filled with ghosts and other supernatural entities?
You Might Like: The Future of Mob Psycho 100: Will There Be a Season 4?
13. Demon Slayer
| | |
| --- | --- |
| Rating | 8.45 |
| Number of Episodes | 55 Episodes, 2 Films |
| Genres | Action, Fantasy |
"Demon Slayer" ranks among the best-animated anime series. Despite some criticism regarding a perceived lack of depth in the storyline, the series has attracted a multitude of new fans to the anime medium, thanks in large part to the high-quality animation by Studio Ufotable.
The plot revolves around a young boy, Tanjiro, who is determined to restore his sister's humanity after she is transformed into a demon. To achieve this, he becomes a demon slayer, seeking to uncover the root cause of her transformation. If you're drawn to heart-touching stories, this anime is sure to resonate with you!
"Demon Slayer" tells the story of Tanjiro, a young boy who lives with his family in the mountains, selling wood at the market. Tragedy strikes when he returns home to find his entire family slaughtered, with only his little sister Nezuko surviving. However, Nezuko has been turned into a demon and now poses a threat to him.
Fortuitously, a professional demon slayer arrives on the scene, saving both siblings. He advises Tanjiro to seek training from a master who can help him become a demon slayer, a path that may lead him to the answers he seeks. Will Tanjiro succeed in transforming his sister back into a human?
You Might Like: Demon Slayer Season 4 Has Been Officially Announced
12. The Promised Neverland
| | |
| --- | --- |
| Rating | 8.455 |
| Number of Episodes | 23 Episodes |
| Genres | Fantasy, Sci-Fi |
"The Promised Neverland" is an anime series that stirred up controversy with its second season, as it rushed through the best parts of the source material (manga). While season one was a faithful adaptation of the manga and boasted beautiful animation, the subsequent season left many fans disappointed.
The plot centers on a group of children trapped in a facility where demons await their maturation to consume them. The children must escape at all costs to a place where humans are safe. With a suspenseful narrative that intensifies with each episode, the story keeps viewers on the edge of their seats.
Set in the isolated Grace Field House, "The Promised Neverland" follows the lives of young children who reside there, seemingly alone. They are cared for by their "Mama," Isabella, with Ray, Emma, and Norman being the eldest among them.
A shocking revelation occurs when a child is transported to the outside world, a standard procedure that takes a dark turn. Norman and Emma follow her and discover the horrifying truth: they are being raised as food for demons. Faced with this grim reality, will the trio be able to lead all the children to escape from this nightmarish house?
You Might Like: Kakegurui Author and The Promised Neverland Illustrator Are Collaborating on a New Manga
11. Attack On Titan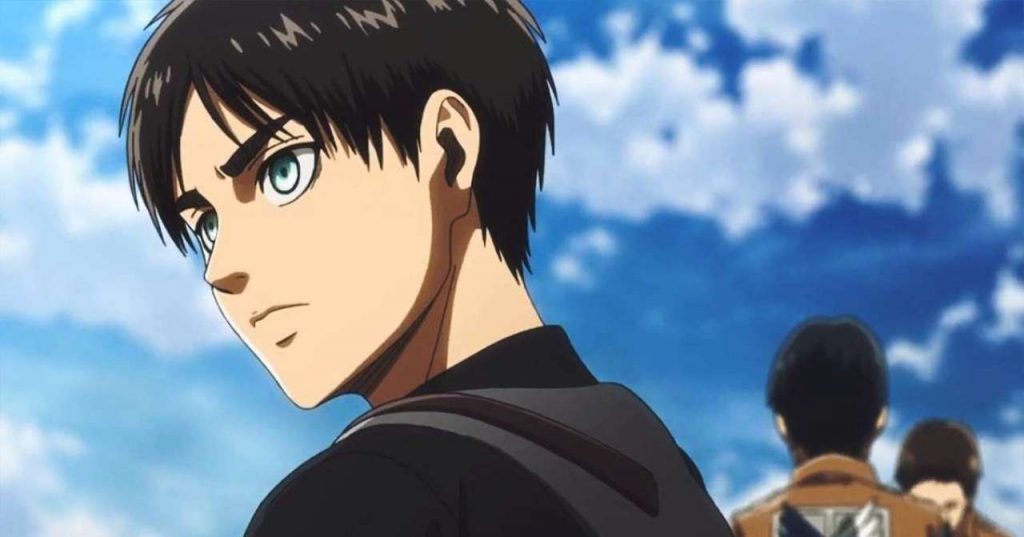 | | |
| --- | --- |
| Rating | 8.47 |
| Number of Episodes | 89 Episodes |
| Genres | Suspense, Drama, Action |
"Attack on Titan" is one of the most standout shonen series of the past decade. It introduces a unique protagonist who battles against the entire world for the welfare of his friends. While this premise might sound cliché, the plot is executed with exceptional skill and depth.
The story centers on a young boy named Eren, who becomes consumed with the goal of eradicating the titans from the Earth's surface. This ambition takes root at an early age, but as he grows, he faces numerous betrayals that dramatically alter his path.
Set in a world surrounded by titans—giant, monstrous creatures—humanity has retreated behind massive walls for protection. Eren, the son of Dr. Yeager, is privy to some of his father's secrets, which are hidden in their basement. Dr. Yeager promises to reveal these mysteries to Eren when the time is right.
Tragically, before that day comes, a titan larger than the protective walls breaches the barrier, leaving humanity exposed to the terrifying creatures. In the chaos, Eren's mother is devoured by a titan right before his eyes, cementing his resolve to wipe out the titans once and for all. Will Eren be able to fulfill his vow and avenge his mother's death?
You Might Like: Attack on Titan Author Again Confirms The Series Ending Was Decided From The Start
10. Death Note
| | |
| --- | --- |
| Rating | 8.51 |
| Number of Episodes | 37 Episodes |
| Genres | Suspense, Supernatural |
"Death Note" is an anime series often recommended to newcomers, as it unfolds at a slow pace and avoids confusing its viewers. While there have been several live-action adaptations in both English and Japanese, the anime remains the most faithful rendition of the source material.
The story centers on a young boy who grows disillusioned with society and decides to take matters into his own hands when he comes across a mysterious notebook called the "Death Note." The suspense in this series is straightforward, making it accessible to a wide audience, even those who might not typically enjoy this genre.
"Death Note" follows the journey of Light Yagami, a teenager who stumbles upon a notebook that falls from the sky. Intrigued by its ominous name, he takes it home and, half in jest, writes the name of a criminal in it. To his shock, the criminal dies, and Light is soon visited by Ryuk, the Death God, who explains the rules and conditions governing the Death Note's power.
Embracing his newfound ability, Light adopts the alias "Kira" and sets out to become a hidden savior of mankind, executing those he deems unworthy. But how long can Light's actions remain hidden, and what consequences will his choices bring?
9. Chainsaw Man
| | |
| --- | --- |
| Rating | 8.54 |
| Number of Episodes | 12 Episodes |
| Genres | Action, Fantasy |
"Chainsaw Man" was one of the most anticipated anime series, even receiving perfect ratings on MyAnimeList (MAL) before it aired. However, some manga readers were disappointed with the direction of the anime, leading to a petition for a remake with a new director.
Despite the controversies surrounding the adaptation, the series still managed to score highly on review platforms. Interestingly, Mappa's CEO revealed that "Chainsaw Man" was not as successful as "Jujutsu Kaisen" (another entry on this list).
The plot centers on a young boy who becomes a Chainsaw Man and battles demons, all while working under a mysterious and attractive boss with hidden motives. The engaging storyline quickly draws viewers in, making it hard to look away.
"Chainsaw Man" is set in a world infested with demons, and demon hunters are tasked with eliminating them. Denji, a teenager burdened with massive debt due to his father, finds solace in his small chainsaw demon named Pochita.
After a near-fatal incident, Pochita merges with Denji's heart, transforming him into the Chainsaw Man. Makima, a demon hunter, recruits Denji, but as he settles into his new life, he begins to notice something sinister lurking beneath the surface. What could it be?
You Might Like: Chainsaw Man Anime Reportedly Getting Season 2 & A Movie
8. Great Teacher Onizuka
| | |
| --- | --- |
| Rating | 8.55 |
| Number of Episodes | 43 Episodes |
| Genres | Comedy |
"Great Teacher Onizuka" is a timeless classic that continues to be cherished by anime fans. Its position at #8 on this list shows the enduring appeal of old classics, even if they have been overshadowed by newer releases.
The plot follows Eikichi Onizuka, a former gang leader who unexpectedly becomes a high school teacher. With his background, he's ill-equipped to teach traditional subjects but excels at imparting life lessons and ethics to his students. This unique approach makes the series both exciting and humorous.
"Great Teacher Onizuka" showcases Onizuka's unconventional teaching methods, leading to many amusing and heartwarming moments. Using his charisma and street smarts, Onizuka tackles various social issues, breaks down barriers, and inspires his students to overcome their challenges.
His goal is to become the "greatest teacher," and his distinctive style of teaching brings him closer to that aspiration.
7. SPY X FAMILY
| | |
| --- | --- |
| Rating | 8.61 |
| Number of Episodes | 25 Episodes |
| Genres | Comedy, Action |
In recent years, "Spy x Family" has emerged as a surprise hit, joining the ranks of popular series like "Demon Slayer." Animated by two renowned studios, CloverWork and WIT, the collaboration has resulted in something truly remarkable.
The series features a diverse cast of characters, ranging from serious to whimsical. Among them, the standout star is the endearing Anya, who has captured the hearts of viewers both inside and outside the anime fandom.
Set in a country rife with crime, "Spy x Family" follows a fictitious family, each member of which possesses a unique supernatural ability. The blend of comedy with the Shounen genre adds a layer of intrigue to the series, making it a compelling watch.
The story unfolds in a world where two neighboring countries, Ostania and Westalis, share a strained relationship. A seasoned spy known as "Twilight" is assigned a mission to infiltrate a school, requiring him to quickly assemble a family.
He adopts a girl named Anya, persuades a woman named Yor to pose as his wife, and assumes the alias "Loid Forger" to embark on this covert mission. As the plot progresses, the question arises: Will Twilight succeed in his mission, or will he form a genuine connection with his make-believe family?
You Might Like: Spy x Family Reveals Two Cutest Visuals For Season 2
6. Jujutsu Kaisen
| | |
| --- | --- |
| Rating | 8.62 |
| Number of Episodes | 24 Episodes + 1 Movie |
| Genres | Action, Fantasy |
"Jujutsu Kaisen" can be considered a modern equivalent to the Naruto anime series. It has rapidly ascended to become a fan favorite in the Shonen anime community. With an enthralling story and top-notch animation by Mappa Studio, the series' popularity has soared to impressive heights.
Set in a world where curses lurk among humans, sorcerers are tasked with exorcising them. However, the protagonist, Itadori Yuuji, finds himself in a unique situation: he harbors a curse within himself, and it's none other than the king of curses.
The story follows Yuuji, who, against the warnings of Jujutsu Sorcere, ingests a cursed artifact. Remarkably, he retains control over his body even after consuming the artifact, which contains the king of curses, Sakuna.
Following this incident, Yuuji enrolls in Jujutsu High School to learn how to master the curse. This quest is further fueled by the recent loss of his grandfather, who left him with some unsettling final words. The series explores the question: Will Yuuji be able to control the King of Curses?
You Might Like: Renowned Attack on Titan Animator Joins Jujutsu Kaisen Season 2 Team
5. Hajime No Ippo
| | |
| --- | --- |
| Rating | 8.68 |
| Number of Episodes | 126 Episodes |
| Genres | Sports, Action |
"Hajime no Ippo" is a notable entry on this list, representing one of the best sports anime series. Unlike many modern anime that mix supernatural elements with sports, this series focuses solely on boxing.
The plot follows Ippo Makunouchi, a timid high school student who is often bullied. His life takes a turn when professional boxer Mamoru Takamura saves him from an attack and introduces him to the world of boxing.
Inspired by Takamura, Ippo decides to pursue boxing as a career. He begins training under the watchful eye of his committed coach Kamogawa, facing a challenging journey to become one of the best boxers.
If you're looking for an anime that combines Shounen and Sports without any supernatural twists, "Hajime no Ippo" is a great choice. It's a story of personal growth and determination, showing the road to success in the boxing world.
4. Gintama
| | |
| --- | --- |
| Rating | 8.72 |
| Number of Episodes | 367 Episodes + 5 Movies |
| Genres | Action, Comedy |
If you were to ask a Gintama fan, they might say Gintama is the best anime series ever created. The series has cultivated a devoted, almost cult-like following. Nonetheless, it offers a unique blend of humor that never fails to entertain. What sets it apart is how it masterfully combines comedy with the Shounen genre, resulting in a truly remarkable series.
The story centers on Sakata Gintoki, an eccentric samurai who runs an odd business known as Odd Jobs Gin-chan. Despite his efforts, he earns nothing, so he spends his time wandering around and helping people. Alongside his quirky friends, including the polite Shinpachi and the alien girl Kagura, Gintoki takes on various tasks in a world filled with absurdity and constant battles.
The series is packed with satirical comedy that's hard to describe in words. It's a blend of action, humor, and touching moments that create a unique and enjoyable anime experience. If you're looking for something different and want to enjoy a masterpiece of comedy, "Gintama" is a must-watch!
You Might Like: Gintama New Anime Opening Straight Up Copied One Piece
3. One Piece
| | |
| --- | --- |
| Rating | 8.87 |
| Number of Episodes | 1066 Episodes (Ongoing) |
| Genres | Action, Adventure, Fantasy |
"One Piece" stands as a testament to the best that Shounen anime can offer. With nearly 23 years of continuous story development, it has become a beloved classic. What sets "One Piece" apart is its masterful world-building, captivating storyline, and embodiment of everything that comes to mind when one thinks of "Shounen."
The plot centers on the adventurous journey of Monkey D. Luffy, a young boy with dreams of becoming the Pirate King. Despite his family's objections, Luffy sets sail to gather a loyal crew and pursue his dream. Along the way, he faces treacherous seas, dangerous pirates, and islands that even the most formidable avoid.
One Piece is also being adapted into a live-action series by Netflix. With a live-action adaptation gaining popularity even before its release, "One Piece" continues to capture the hearts of fans, old and new.
You Might Like: One Piece Live Action Per Episode Budget
2. Hunter x Hunter (2011)
| | |
| --- | --- |
| Rating | 8.97 |
| Number of Episodes | 148 Episodes |
| Genres | Action, Adventure, Fantasy |
"Hunter x Hunter 2011" serves as a much-needed and well-received remake of the original 1999 anime series. Moreover, the remake carried the story to almost the end of the source material, making this one of the second most popular Shonen series.
The plot follows the determined journey of a young boy named Gon, who aspires to become a professional hunter. His ultimate goal is to find his father, who abandoned him at birth to pursue his own career as a hunter. Gon's quest is filled with challenges, friendships, and personal growth.
Throughout his adventure, Gon encounters various characters, some of whom become his close friends and allies. Will Gon's relentless pursuit lead him to his father? Will he find the answers he seeks?
"Hunter x Hunter" keeps viewers engaged with its intriguing storyline and well-developed characters, making it a must-watch for fans of the Shonen genre.
1. Fullmetal Alchemist Brotherhood
| | |
| --- | --- |
| Rating | 9.05 |
| Number of Episodes | 64 Episodes |
| Genres | Action, Adventure, Fantasy |
Released in 2009, "Fullmetal Alchemist Brotherhood" has stood the test of time, continuing to top the charts and maintaining its dominance even when combining ratings from two major websites.
The series centers on the journey of two brothers, Edward and Alphonse Elric, who are on a quest to restore their bodies after a failed alchemy experiment. The plot unfolds at a measured pace.
Elric brothers embark on a search for the elusive Philosopher's Stone, hoping it will heal the physical damage they've suffered. As they train to become State Alchemists, they uncover a vast conspiracy tied to the government and encounter homunculi, mysterious beings created through forbidden alchemy.
Feel free to share your thoughts in the comments below, especially if any other shonen anime series deserves to be rated highly. You can also read Top mystery manga that are worth reading.
Source: My Anime List | Anilist