Published on May 9th, 2022
Hashtag of Eren Yeager trending on Twitter was not something special when Attack on Titan series was on going. But, Yesterday when I saw that hashtag Eren was trending, I was slightly surprised. Nonetheless, I clicked on the hashtag to see what this was about, and I would say that I was not disappointed (although many fans would disagree with my statement).
Eren Yeager has received a naked 1/6 scale figure from Banana Studio titled "Eren Yeager, Out of the bath". This erotic scale figure shows probably the sexiest version of Eren Yeager, seen in the final season of the anime series.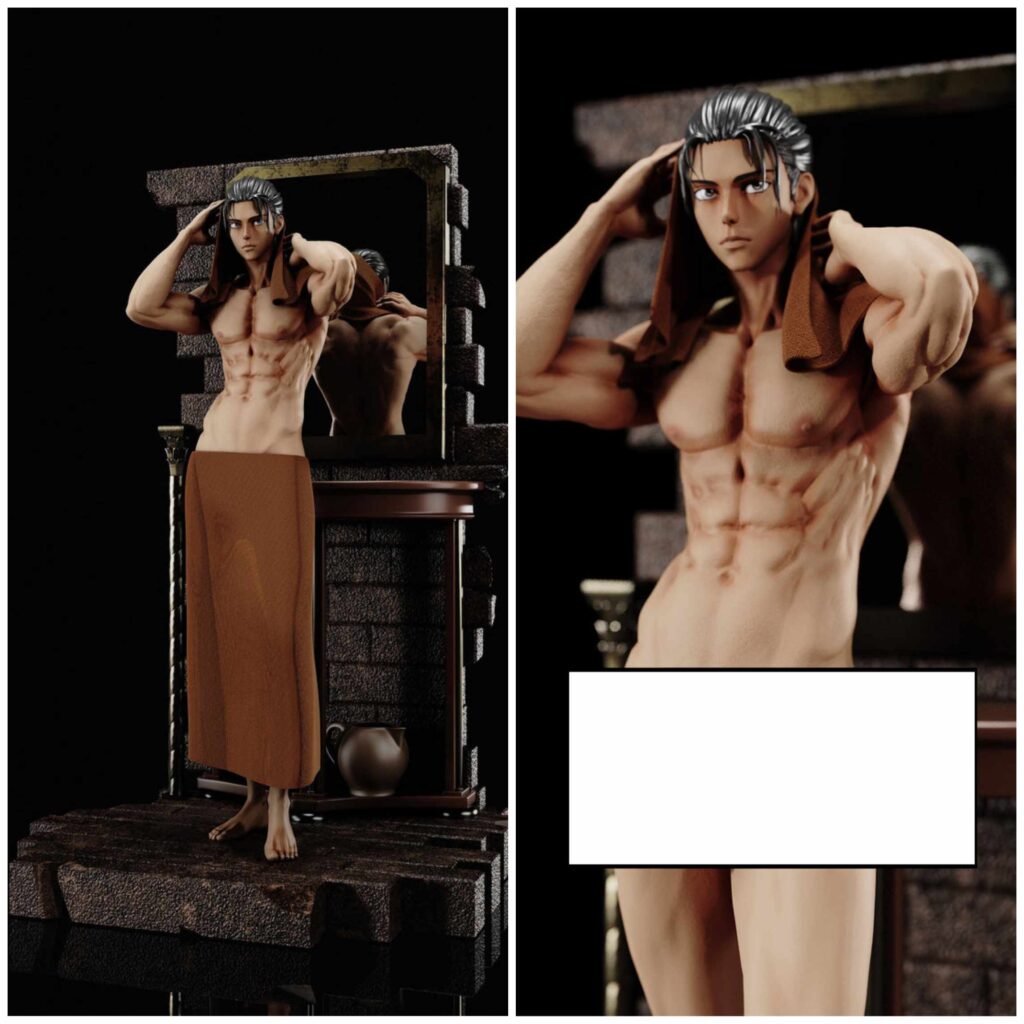 In the scale figure, Eren is posing with his hands on his hair, and his whole body is covered with nothing but a Towel. Off course, Eren's half naked body would be enough for many female fans to purchase this product. However, it looks like Banana Studio didn't want to leave anything to chance. So, they have made this towel removable.
If you thought this was the end of this figure's functionality, you couldn't be more wrong. As it turns out, you can even change his 'weapon' to be represent it either in its flaccid state or in its erect state, the second state has some impressive dimensions if we compare it with the rest of the measurements.
Off course, just like me, many fans unexpectedly saw this Eren's figure by clicking on the trending hashtag on Twitter.
If you are thinking about buying this figure, I would suggest saving up for a few months as this figure isn't cheap. Depending on the distributor, prices can vary, but it will be most likely around $300 US. You can see more details here.
Attack on Titan anime is based on a manga series, written and illustrated by Hajime Isayama, who started the manga serialization in Bessatsu Shonen Magazine in 2009. The series came to an end in 2021, after releasing 139 chapters, which were compiled in 34 volumes.
Crunchyroll describes Attack on Titan series as follows:
It's been four years since the Scout Regiment reached the shoreline, and the world looks different now. Things are heating up as the fate of the Scout Regiment—and the people of Paradis—are determined at last. However, Eren is missing. Will he reappear before age-old tensions between Marleyans and Eldians result in the war of all wars?