Published on March 31st, 2022
The latest chapter of Jujutsu Kaisen is nearly upon us! And as we all know with a nearing release date come spoilers and leaks! After taking a quick peek at this week's leaks I can proudly say that the upcoming chapter will be an exciting ride! We'll get right into it down in the spoilers section!
You can find everything you need to know about this week's chapter of JJK, and more down below! From spoilers to release dates, listicles, and more you can find everything you need to know right here on Anime Senpai.net!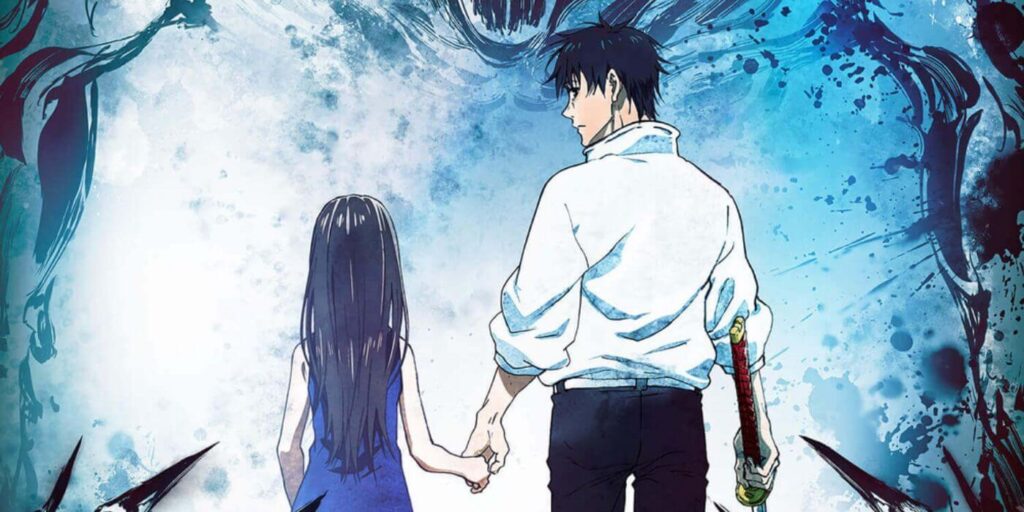 Chapter 179 Recap
Before we jump into spoilers for chapter 179 let's do a quick recap of what went down in the most recent chapter of the series, titled, 'Sendai Colony 6.' Be sure to read the chapter yourself, you can find it for free, and officially down below!
Continuing from the chapter previous to this, the chapter starts off with all three sorcerers using their domain expansions! Since both Uro and Ryu want to handle this without the interference of Rika they both create their domains to make sure Rika cannot enter. And once she realizes this, Rika is, of course, upset.
Using her rage Rika is able to get her power output to reach a new level, sprouting a third eye out of her head! But before she can attack someone else appears, someone who died a couple of chapters back… Of course, it's none other than the cursed spirit Kurouroshi on the attack! Using the body of one of his offspring when Kurouroshi "died" he was able to pass his actual spirit into another dormant body.
Due to the instability of the cursed domains, and now the added stress of two new fighters the cursed domains all crash at once. With Uro briefly distracted by Kurourshi's appearance, Yuta takes the opportunity to attack Uro, sending her barreling into the ground! Leaving her as prey for the two cursed spirits below. Rika manages to get to her first and rips off her right arm!
Before Uro can do anything further Ryu blasts both her and the newly revived Kuroruoshi. Claiming the battle between him and Yuta as his alone. With only two fighters left on the battlefield who will come out as the winner? Let's find out down below!
Chapter 180 Spoilers
Now that we are all caught up, let's dive right into chapter 180. Warning, however, some raws for the upcoming chapter are already out so there are confirmed spoilers below, you have been warned.
The chapter supposedly starts off with Ishigoori and Yuta shooting powerful blasts at each other from a distance. From there, Yuta fakes and claims that he can't shoot off any more shots and begins to close in on Ryu for some close-range battle. Ryu is about to engage too when he realizes that Rika can fire her own blasts as well.
With Yuta fast approaching Ryu fires off a blast at him telling the young sorcerer that he can do anything he does better. Of course, Ryu doesn't understand Yuta's cursed technique at the moment so he is just blabbing. Using Uro's cursed technique, Yuta is able to quickly recover, however, his five minutes with Rika is up leaving him less powerful. Knowing this Ryu shoots a blast off at the now tired Rika, taking her out of this battle.
Both tiring out at this point, the two powerful jujutsu sorcerers continue to fight hand-to-hand. Here Ryu comments that this is the first time he has had to use all his power, calling this fight his dessert. Not speaking or even replying to this Yuta swiftly grabs Ryu and pins him down to the ground. Suddenly a powerful blast comes down from the sky and blasts Ryu, defeating him.
It's then explained that the blast that defeated him was in fact Ryu's own granite blast! When Yuta "recovered" he actually used Uro's technique to redirect the shot. As the chapter comes to a close we see Ryu thank Yuta for a good fight, as he says in his own words, he is now fully satisfied. And with that the chapter comes to a close, leaving us wondering what could go down next week!
Raw Scans
Raw scans for chapter 180 are not currently available at the time this article is being written. However, if any, do come out we will make sure to update this page.
Release Date
Jujutsu Kaisen 180 is currently expected to release Sunday, April 3rd, 2022. As of the writing of this article, there have been no announced delays to the upcoming chapter. Meaning that the official English release of JJK will most likely stick to schedule and release on Sunday as usual.
Where To Read
You can read Jujutsu Kaisen officially and for free on both Viz Media and Manga Plus. Of course, you could also read the series through the recently launched Manga Plus app. Please try to read the series officially, as this supports both the author and allows them to create more stories.
Let us know what you think of this latest chapter in the comments below. For more news about everything anime and manga, be sure to visit our main Anime Senpai page! We have new articles daily, so check them out!
We will be back next week with even more JJK content so stay tuned till then.