Lesbian anime or in Japanese they call it Yuri anime, is one of the popular genres of anime. If you found this article looking for some spicy Yuri anime, then you are at the right place. And if you came here without knowing anything about Yuri, then allow me to welcome you to this beautiful world.
Yuri (lesbian) is a genre that focuses on romantic relationships between female characters. I actually cannot explain it more simply. If this gets your mind thinkin' and your heart pumpin', fasten your seat belts as you are up for a good ride.
Here I will recommend the top 22 lesbian anime you will love watching. All of these anime may not have the main lesbian theme, but they do have some side characters that will not disappoint you on the lesbian aspect.
1. Ms. Vampire Who Lives In My Neighborhood
You find yourself a neighbor who is a vampire that does not attack humans and is cute just like a doll. What would you do? I don't know about you, but "Akari" wants to be friends with this ageless cutie.
And for what reason, you might ask! For that, you have to watch this tale of a human and a vampire who spend their everyday life together, learning about each other's culture, which makes them a bit close to each other. If you get the cue, it's time to go and binge this wholesome Yuri anime.
Number of Episodes: 12 episodes
Personal Rating: 8.20
2. Citrus
Two maidens craving for each other, simple as that. No trying to confess, no drama, just straight-up lesbian romance.
Citrus anime is about a diligent girl, Yuzu, who has to transfer to an all-girls school due to family reasons. She encounters the student council president who does some naughty things to Yuzu to confiscate her cellphone. And wait until you find out that these lesbian lovebirds will be step-sisters.
A little family romance does not do anyone any harm. You will just witness how slowly, but surely these Step-sisters go through life and "forbidden" love.
Number of Episodes: 12 episodes.
Personal Rating: 7.00.
3. Konohana Kitan
Fox girls and "Yurification." Now that's a match made in heaven right there. Konohana Kitan follows the simple story of a fox girl named "Yuzu" who starts working at a hot spring Onsen. Yuzu is not very aware of how to deal with everything as she has no experience. So, she goes through her everyday life meeting other girls and making new girlfriends.
Yuzu goes through her everyday life meeting other girls and making new bonds with everyone. You just cannot dislike this wholesome lesbian romance, can you?
Number of Episodes: 12 episodes
Personal rating: 7.50
4. Adachi and Shimamura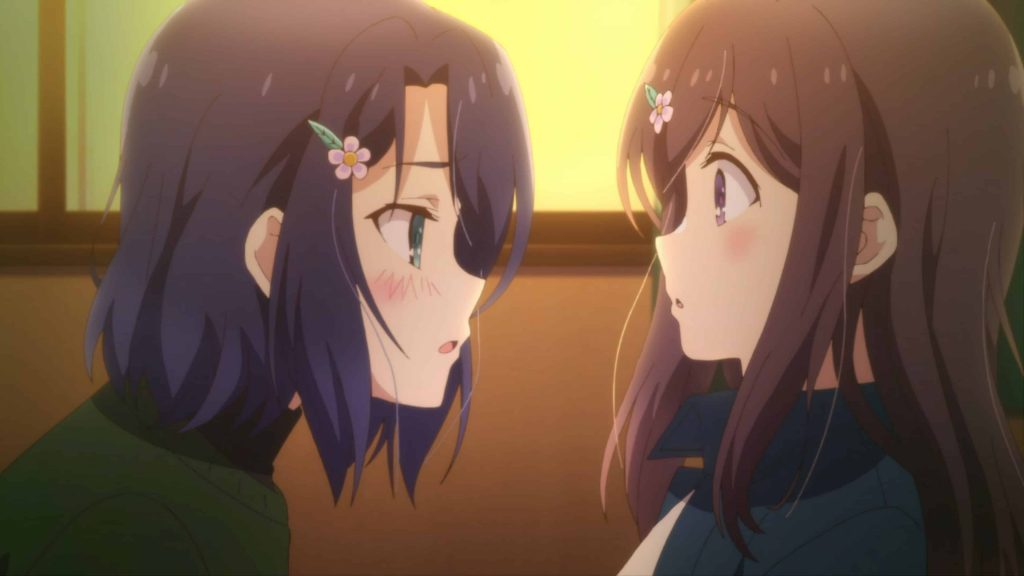 For me, this is a modern-day Yuri masterpiece. A lesbian anime relationship between two characters that are voiced by Akira Kitou (voice actor of Nezuko from Demon Slayer) and Miku Ito (voice actor of Miku from Quintessential Quintuplets).
It all starts with two girls sitting on the second floor of their school gym, bunking their classes just to kill time. Every day goes by, and one day, "Adachi" realizes that she has feelings for the "Shimamura," which are more than just a friendship. But, she learns it the hard way as Shimamura associates with other girls and Adachi becomes needy of her attention.
Number of Episodes: 12 episodes
Personal rating: 8.90
5. Bloom Into You
Bloom Into You anime starts a bit slow, but patience bears fruit. The series follows the story of "Yuu", a young maiden who has fantasies that her prince charming will arrive on her horse and take her away from this world.
She is obsessed with Shoujo mangas and things like that. But wait until our "Touko" (her childhood friend) arrives, who straight-up declares her love for her. And that is how a wholesome lesbian relationship starts.
Number of Episodes: 13 episodes
Personal rating: 7.90
6. Happy Sugar Life
Happy Sugar Life is a horror anime. If that makes you want to skip this anime, you need to strengthen your love for this genre because you are missing out on a great Yuri anime relationship.
Also Read: Anime Like Rent A Girlfriend
The series follows the story of "Satou" who just entered her high school life. She pretty much has a phobia of men in everyone's eyes. And this is where we learn that she is living with another girl "Shio" who she is madly in love with and wants to protect at all costs. Let the battle for love begin!
Number of Episodes: 12 episodes
Personal rating: 8.00
7. WATATEN!: An Angel Flew Down To Me
This is a story about a university student, "Miyako," who spends her days mostly tailoring clothes and sometimes trying them on herself. But she is looking for a cuter girl who can dress up for her as she has a bit of an inferiority complex regarding her looks.
One fateful day, Miyako's little sister brings home her friend "Hana" to meet with her sister. And as Miyako lays eyes on Hana, and instantly knows that Hana is the special girl she has been waiting for.
The series follows the everyday life of Miyako, where she convinces Hana to try on a new outfit by bribing her with sweets and fawning over her.
Number of Episodes: 12 episodes
Personal rating: 8.20
8. Oniisama e
Surely you didn't think that I would not include old-school classic anime in this list, right? When they say old is gold, they mean it.
Oniisama e follows the story of "Nanako," who enters a prestigious university hoping to get a first-class education. But she gets bullied by other girls of the school as she is not of the caliber of this prestigious school.
Despite all this, Nanako gets involved with the three top beauties of the school, and she experiences life, sadness, and jealousy with all of them. We see love triangles in all relations as Nanako starts to develop romantic feelings for girls she once thought of as friends. But who will win her heart at the end of the day?
Number of Episodes: 39 episodes
Personal rating: 7.10
9. Non Non Biyori
Non Non Biyori anime is all about healing. Cute little girls doing cute things. But we will focus on the lesbian aspect of some characters.
The story is about a country girl "Renge" and her friends who spend their everyday life in a boring village, looking for things that are fun.
One day, a city girl "Hotaru" transfers to their school because of her dad's transfer, and the group shows her the good things of country life.
Hotaru encounters one of the members of the group named "Komari," who is so cute and small that she becomes obsessed with her. Hotaru starts to admire her in every way possible. From making dolls like her to inviting her every day to hang out with her alone, we see how these innocent girls learn new feelings in life.
Number of Episodes: 36 episodes + 1 movie
Personal rating: 8.90
10. Yuru Yuri: Happy Go Lucky
This Yuri anime follows the story of our protagonist "Akari," who is not much protagonist-like. Akari gets sent back a grade and is now separated from her friends. But later on, she reunites with her friends, who now have formed an "Amusement Club" where they drink tea and do nothing much. The vice president of this club "Ayano" is the tsundere who has a hard time facing her love "Kyoko," and this makes things hard for her.
You will follow the activities of these girls as they spend their school life in this club doing random things, while unconsciously ignoring our main protagonist Akari.
Number of Episodes: 38 episodes
Personal Rating: 7.10.
11. Grand Blue Dreaming
This anime does not share the lesbian theme overall, but we get to see some spicy Yuri stuff as a girl has more than just some family-related love for her sister. The story follows the life of a teenage boy "Iori" who travels to the coastal side of this city to start his college life. He stays with his cousins at a scuba diving equipment shop and naturally develops a knack for it.
Grand Blue anime is mostly enjoyed as a comedy series. But you are not here for that, are you? Things go spicy when we first see "Nanaka" smirk and lick a glass, out of which her sister just took a sip. Wait until you see her behavior throughout the series. There is also a friend of Nanaka who is interested in men and women equally, and she spices things up!
Number of Episodes: 12 episodes.
Personal Rating: 9.20.
12. UzaMaid!
This Yuri anime should be illegal. But I won't judge you if you like it. It follows the story of "Takanashi", a second-grade school girl who lives with her stepfather after her mother's death. "Kamoi," a former Air-force employee, is appointed as her housekeeper by the stepfather.
And well, Kamoi is into girls. We see how throughout the series, Takanashi has to deal with the suspicious behavior of Kamoi and tolerate her. And sometimes, there are also some good lesbian things that happen between these two.
Number of Episodes: 12 episodes
Personal Rating: 7.00.
13. I've Been Killing Slimes for 300 Years and Maxed Out My Level
This Yuri anime is all about girls and a masochist demon lord. "Azusa" gets reincarnated as a witch in another world, and the only thing she wishes for is a place where she can live peacefully. But things never stay like that. So, she starts making new roommates every day unexpectedly and finally meets the demon lord, who is in so much love with her that she wants Azusa to "hurt" her.
That's the best way I could explain it to you without any explicitly. For the whole experience, dive into this anime and discover how she discovers a new roommate every day because of unfortunate reasons!
Number of Episodes: 12 episodes
Personal Rating: 8.20
14. Wandering Witch: The Journey of Elaina
Have you ever seen a pupil who is so inspired by her teacher that she wants to live with her forever? "Elaina," a newly-graduated witch, is a maiden who aims to go out to the world after becoming a witch. But as she follows her goals and travels the world, she makes an apprentice unexpectedly.
And this pupil "Saya" never wants to leave her side. From panting by just the looks of Elaina, you are up for some cute lesbian romance between two pure maidens.
Number of Episodes: 12 episodes.
Personal Rating: 8.80.
15. Scum's Wish
Let me introduce you to a unique genre in anime that is mostly not explored much: Dark Romance. The story follows two high school students, "Hanabi" and "Mugi," who are both trying to satiate their lust for each other's bodies because they both loved their teachers and were rejected by them.
But on another side, Hanabi is also in a taboo relationship with her only friend, "Ecchan." She tries to corner Hanabi every time they are alone and try to be intimate with her. Scum's Wish anime series, by far has the most interesting story with a Yuri touch to it.
Number of Episodes: 12 episodes.
Personal Rating: 9.30.
16. Candy Boy: Nonchalant Talk of the Certain Twin Sisters in Daily Life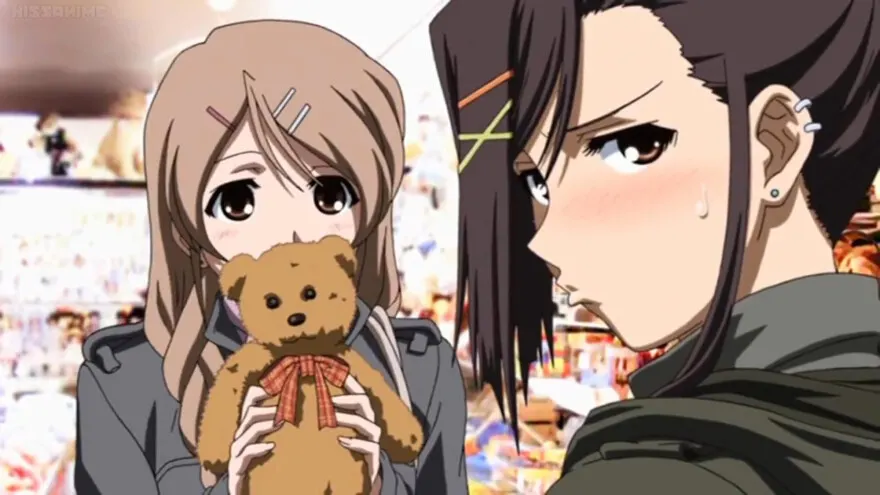 This lesbian anime series tells us about two girls who are twins, despite being related by blood, both "Kanade" and "Yukino" harbor feelings of love for each other. And like every love story, jealousy enters between them as a third girl, "Sakuya," starts to hang out with Yukino.
When Kanade witnesses all this from her perspective, she starts to get distant from her sister, and later on, we see how Yukino hung out with Sakuya just for some advice regarding Kanade. This story follows a bittersweet relationship between two sisters who, as lovers, discover things and emotions to maintain their relationship.
Number of Episodes: 8 episodes
Personal Rating: 8.00.
17. Higurashi: When They Cry SOTSU
I bet you have never seen two lesbian girls kill each other in love and in a very gruesome manner. Right? Well, this anime follows the story of a bunch of kids spending their everyday life in a village that is supposed to have a curse. The curse kills one person every time a festival is held in the village.
We later learn that two little girls, "Satoko" and "Rika," with the help of some supernatural beings, are committing these massacres because every time they decide something, one of them is not happy with the decision. But in the end, both of them just want to stay together. Just keep in mind that this anime has a lot of gore.
Number of Episodes: 39 episodes.
Personal Rating: 8.30.
18. Akebi's Sailor Uniform
Akebi is a girl who has always dreamt of wearing a sailor uniform and according to her mother, the school she graduated from has the dress code of a sailor uniform. Unfortunately, during the course of time, the dress code changed, and now, no one is allowed to wear sailor uniforms.
But on the request of Akebi, the principal grants only her the permission to wear this uniform. One of her classmates, Erika, seems to be too interested in Akebi because of her peculiar behavior as compared to other students and throughout the anime; you will see how these two girls bond together to strengthen their lesbian relationship and see how Erika wants to be with Akebi more and more! Alongside this, the animation of this anime is aesthetic and beautiful too!
Number of Episodes: 12 episodes
Personal Rating: 8.60
19. Kase-san and Morning Glory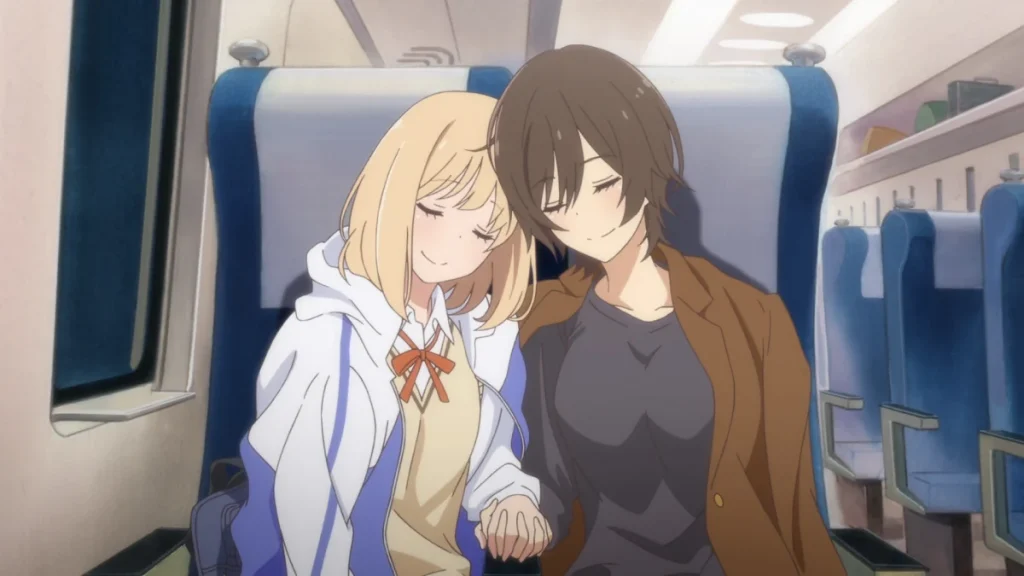 This short OVA series follows the story of a shy high school girl, "Yui," who is in love with the school tomboy, beauty "Kase." Our main protagonist, Yui, has never dated anyone before, and she is very reluctant about so many feelings regarding Kase.
But slowly, she learns so many things and experiences so many feelings with the help of her partner Kase that she has never even thought of before. This is a pretty simple story of two girls trying to fall in love purely, and you will most definitely like it.
Number of Episodes: 2 episodes.
Personal Rating: 8.50.
20. Senran Kagura: Ninja Flash
Senran Kagura follows the story of beautiful girls who are training to be ninjas at the Hanzo Academy. They train their best to face off again the evil organization ninjas and save the world. Among the Hanzo Academy students is a student named Katsuragi, who just cannot stop lusting over the bodies of other female ninjas, especially the chest part of these maidens.
We follow this simple story of ninja girls as they go through different problems in their everyday training life and bond together both mentally and physically.
Number of Episodes: 24 episodes.
Personal Rating: 8.50.
21. Kobayashi's Dragon Maid
A sexy female dragon who wants to have a romantic relationship with you. Too bad you are just a weak female human being, huh? "Kobayashi" is a hard-working employee. One day, when she is returning home drunk, she crosses paths with a dragon named "Tohru," who has a sword stuck in her. She saves the dragon, and they become best friends.
After saving her, she makes a promise to Tohru that she can be a maid at her house while being drunk. The next day, Tohru arrives at her home and, somehow, she is appointed as a maid of her household. Later, we realize that Tohru is so romantically obsessed with Kobayashi for saving her life that she wants to bear her children (which is scientifically impossible).
So, we just enjoy their everyday encounters and witness Tohru's ways of getting Kobaysahi's attention and affection.
Number of Episodes: 25 episodes + 1 OVA.
Personal Rating: 8.90.
22. Cross Ange
This is a Mecha anime that follows the story of "Angelise," who is a princess. She has one goal in life: to get rid of the Norma (people who cannot use mana, hidden power of the body). But on her 18th birthday, she is exposed by her family for being a Norma, and she is dethroned from her status and sent to Arzenal, where people like her do hard labor to fight the dragons.
Another resident of Norma is a girl named Hilda, who was romantically involved with a female "Zola" in the past and is now seeking those same romantic feelings from Angelise. Will Angelise be able to regain her noble title? Or will she just perish under the cruel world?
Number of Episodes: 25 episodes
Personal Rating: 6.90.
What are your thoughts on the "22 Best Lesbian Anime" recommendations? Do you think we missed out on any good Lesbian (Yuri) anime? Let us know in the comment section down below.