My Hero Academia has been on a flawless run for the past few weeks and will continue to do so. Spoilers for My Hero Academia chapter 407 have surfaced online, consistent with the usual Wednesday releases.
The fights between All Might, All For One, and Deku against Shigaraki have taken a particular turn with the return of an unexpected character, seemingly dead for almost fifty chapters, Bakugou.
Shigaraki has begun his final pact against Deku, and thanks to Bakugou, All Might can rest. Bakugou and Deku are now fighting against AFO and Shigaraki. AFO has lost his cool and is now planning to go all-out against Bakugou.
Now, without wasting any more of our precious time, here are My Hero Academia Chapter 407 spoilers.
All of the spoilers are a courtesy of Rukasu on Twitter/X!
You Might Like: My Hero Academia Live Action: Rumoured Cast and Potential Shift to Series Format
My Hero Academia Chapter 407 Spoilers:
According to the spoilers, My Hero Academia Chapter 407 will be titled 'Paranormal Oprhan' and begins with a woman who contracted a disease some time ago, causing a tumor to grow on her left arm.
The woman did not notice the tumor as she was pregnant with two babies, draining all of her strength.
Later, she gave birth to the twins on a riverside and tragically passed away, but mysteriously, there was no sign of the tumor.
It is then revealed that one of the twins is AFO, and he has the tumor now. The current of the river swept away both AFO and his twin sibling.
A year later, the Glowing Baby took birth in China and had a new quirk, which was researched to be found in children who had not hit puberty.
This information could cause a disturbance in public, so the association decided to hide it, as it gave the concept that those who had powers were not human beings. At night, an anti-extremist group finds All For One.
The group believes that AFO is an 'orphan for the paranormal' and is probably infected. Later, AFO kills all of the group with a spike quirk, shredding their bodies.
AFO stole the spike quirk from his mother as soon as he was born.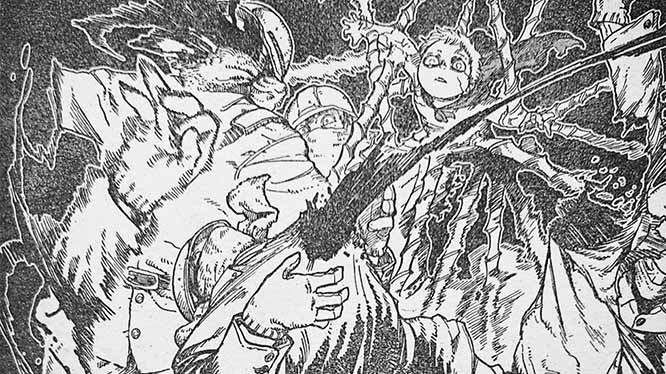 Since his childhood, AFO thought that the whole world was built for him, and if you did not provide him with something, you would be a nuisance. We see AFO attacking more people, but Yoichi throws a can at him to distract him.
AFO stole all of his mother's nutrients, which resulted in his brother being born much smaller and weaker. Yoichi could not provide AFO with anything, so he kept Yoichi to himself either way. Later, it was found that the Glowing Baby (AFO) was fighting in the frontline for peace.
On the other side, Yoichi is reading comics. All Might asks Yoichi what he is reading, to which Yoichi replies that he cannot read complicated books for now, so he is reading comics to study. He is amazed by how the author of the book can convey a lot of information through drawings.
Yoichi still believes in the goodness of AFO, as he held his hand since they were children. The Glowing Baby has gathered more than ten million followers three years later. Before AFO, 50 people were born with a quirk, so he had no right to lead them.
AFO killed and stole their quirks; Yoichi asks why he killed them, to which AFO replies he is doing it like the comics. In the comics, Yoichi learned about "All For One" and "One for All."
This motivated him to become the hero behind closed doors and make a world where everything exists for his sake. The chapter ends with a conversation between Yoichi and Kudou, which leads to a devastating conclusion.
Yoichi's hand is cut off, and now he is surrounded by blood everywhere.
The series will be going on break next week, and the chapter is now set for November 23, 2023.
My Hero Academia is available to read on the Viz Media and Mangaplus app/websites.