Made in Abyss is a dark-fantasy anime that started airing in Spring 2017. It is animated by the animation studio Kinema Citrus, whose other notable projects include "The Rising of the Shield Hero" and "Black Bullet."
Made in Abyss story takes place in a fantasy world where a mysterious abyss is located on an island filled with mysterious creatures and much more. And humans, piqued by curiosity, try to venture into the Abyss to reveal its mysteries. But the Abyss is nothing normal as it consists of different layers. Coming back from each layer causes psychological stress on the human body and even losing your humanity when returning from deeper layers.
Riko, a twelve-year-old girl, is a rookie diver of the Abyss who ventures into the upper layers of the Abyss in search of new things. She has one aim: to follow her mother "Lyza (The Annihilator)," a veteran diver in the depths of the Abyss. But she is not allowed to dive into Abyss as she is just a little girl. One day, she encounters a mysterious boy, the same age as her, who came out of the Abyss, and after examining him, she declares that he is not human and names him "Reg."
Reg has no idea about his origins, so both secretly enter the Abyss's depths in high hopes. But soon, they witness the horrors of the Abyss and realize they might even lose their lives in this bottomless Abyss just out of curiosity.
Here are 15 anime like Made In Abyss that you will love watching.
1. The Promised Neverland
This anime series takes place in a house in the woods. The house is called "Grace Field House" and is an orphanage where orphans live happily daily. But children get transported from the home at a specific age for unknown reasons.
One day, when a little girl "Conny" is about to leave Grace Field, she forgets her toy at the house. So, "Emma" and "Norman" follow her outside the house, and there, they see the grim reality they have to face one day.
They learn that demons are keeping them here, and they are food for them when they reach adolescence. Will Emma be able to help all the children leave Grace Field before they all become food for demons? The series is just like Made in Abyss in that it follows children exploring their world, and both have a dark theme which makes it more compelling.
Number of Episodes: 23 episodes
Personal Rating: 8.00.
2. From The New World
From The New World is a "coming-of-age" theme anime that takes place in a world where people have psychic abilities, which awaken at a certain point in life. "Saki," an innocent girl, has just awakened her psychic skills and entered the Sage Academy. She makes friends there and starts her new life.
All students there don't know how the government is tracking their progress through their schools for its purpose. The government removes students who have no potential as psychics and removes their memories from other children's minds.
During a field trip, Saki and her friends meet a creature who tells them about the world's reality, but a sage kills him, and he seals the power of all the children for knowing the secret. But somehow, they all manage to regain their powers and return home, where things have worsened. This anime might have the darkest theme out on this list. "From The New World" also follows the theme of children trying to uncover secrets of their surroundings and the horror theme just like Made in Abyss.
Number of Episodes 25 episodes
Personal Rating: 9.00
3. Attack On Titan
Attack on Titan is one of the most popular anime of all time; it takes place in a world inhabited by titans (enormous, large creatures). Humans live between the walls built centuries ago by their ancestors, which the titans cannot climb. Inside these walls is "Eren," an enthusiastic boy, along with his parents, and "Mikasa," a shy girl living with Eren's family because her parents were killed.
Eren has always been enthusiastic about leaving the walls, fighting titans, and revealing the world's secrets. His father one day tells him that he might give him leads on what is happening in the world.
Also Read: Anime like Lycoris Recoil
But unfortunately, that same day, an abnormal titan with a height bigger than the walls invades the humans, and thousands of them are killed. Eren realizes that it is not easy to be outside the walls. Throughout the anime, every character goes through different development and learns how to defeat these ginormous beasts.
This anime has the best mystery theme out of all these anime listed before you. "Attack of Titan" is like Made in Abyss because the whole world is like an abyss that the main character wants to unravel.
Number of Episodes: 87 episodes
Personal Rating: 10.0
4. A Place Farther Than The Universe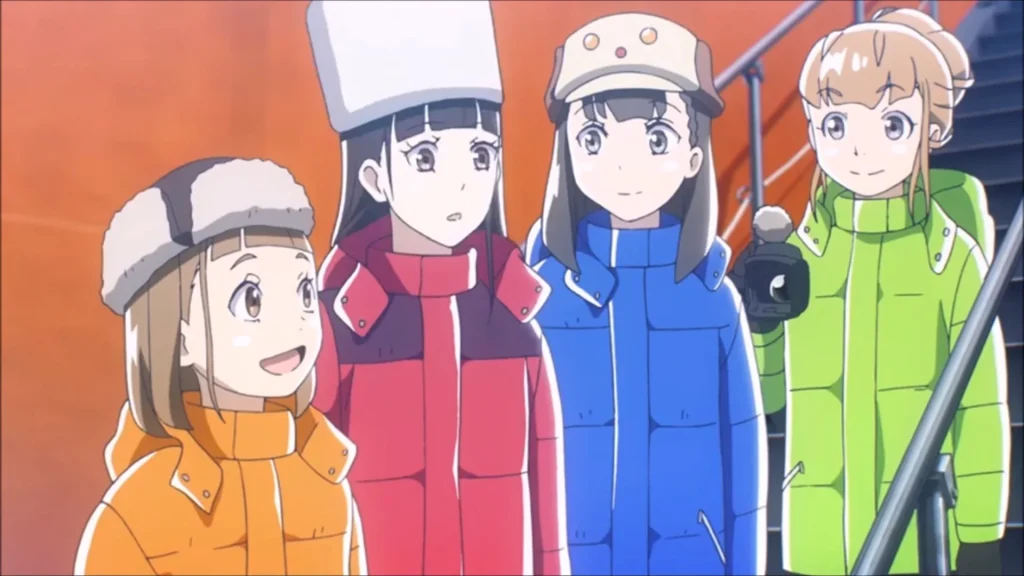 It follows the story of "Tamaki," a high school girl bored with her life and wants to travel somewhere extraordinary. She meets "Shirase" in high school, a girl whose mother disappeared on a trip to Antarctica.
Together, they convince two other girls, "Hinata" and "Yuzuki," and decide to go to Antarctica, but with great aims come great responsibilities. So, we follow four ambitious girls trying to fulfill their hard dream.
The central theme of this anime is not to feel shy about your goals and fulfill them with all you got. The similarity of A Place Farther Than The Universe with Made in Abyss is the fact that the main character is also following in her mother's footsteps and going to a place where not many people have been.
Number of Episodes: 13 episodes
Personal Rating: 9.40.
5. Tower of God
While in Made in Abyss, you descend into the hole of the Abyss, in Tower of God; you ascend into the tower to face challenges. "Tower of God" is based on a Manhwa (Korean Manga) that follows the story of "Bam," a young teenager who is saved by a teenage girl "Rachel" in the depths of the darkness of the world. But she gets chosen by the tower and transported to it as a "Regular."
Bam follows her savior into the tower as an Irregular and passes many trials, and makes many friends until he finally meets Rachel on a particular floor of the tower. But things always don't go as planned as he faces hardships, betrayals, and many more.
Tower of God anime follows the same theme for "Abyss" as "Tower," and also, the world-building of the anime is pretty simple but very intriguing, just like Made in Abyss.
Number of Episodes: 13 episodes
Personal Rating: 8.50.
6. One Piece
"Luffy" is a 17-year-old boy who aspires to be a pirate in the future. He has had an idol since childhood named "Shanks," who saved Luffy several times in hard situations. One day, while arguing with shanks and his crew, Luffy accidentally eats a fruit shanks had in a box and becomes elastic. This was the devil fruit "Gum Gum Fruit."
Now, Luffy promises Shanks that one day, he will meet him when he becomes a great pirate and makes a pirate crew like none other. So, starts the journey of our young pirate.
One Piece has a coming-of-age theme and is just like Made in Abyss with its story, the world-building, the devil fruit system (just like the relics in Made in Abyss), and different parts of the oceans having their geography and characteristics (just like layers of the Abyss). You can even say that Made in Abyss is the miniature version of One Piece. And One Piece recently just broke the Guinness World Record for the most volumes sold by a single franchise which is entirely magnificent.
Number of Episodes: 1029 (Still Ongoing)
Personal Rating: 10.0.
7. Deca-Dence
This anime is a Sci-Fi take on the survival genre, which takes place in a world where monsters known as "Gadoll" prevail. The last bit of humanity that survived, has survived inside a giant fortress called "Deca-Dence." There are two ranks inside the deca-dence, i.e., "Tankers," which provide support, and "Gears," which go outside and fight the Gadoll.
Inside the deca-dence lives "Natsume," a little girl with a prosthetic arm from a past accident working as a cleaner and wanting to become a Gear warrior. But she cannot become a gear warrior because her prosthetic arm is hindering her.
Also Read: Anime like Summer time rendering
She soon learns that her senior "Kaburagi," an old man, was a former-gear officer, and she forces him every day to teach him how to fight. After all the convincing, he starts to teach her and starts the journey of little Natsume fighting Gadolls and learning new things about her world.
As mentioned above, Deca-dence is the Sci-Fi version of Attack on Titan, so you should know how it is similar to Made in Abyss. Also, Natsume has the same personality as Riko from Made in Abyss.
Number of Episodes: 12 episodes
Personal Rating: 9.00.
8. No Game No Life
Have you ever been so good at everything that you start to think that you belong in the wrong world? Well, No Game No Life tells you the same story: it follows two step-siblings, "Sora," a teenage boy, and "Shiro," an 11-year-old girl. They are both Gods of gaming and go by the name of "BLANK" as their alias.
Also Read: Anime like Rent a girlfriend
One day, they receive a challenge of playing chess through an email. After beating the unknown opponent, a mysterious being takes them to his world of "Disboard," where everything, even people's lives, is decided through games.
Realizing that they have arrived in a world where they belong, they now aim to beat every race present on disboard and challenge God at the end, who is also waiting for them.
Like The Abyss" in Made in Abyss, disboard is also a new, mysterious place for the siblings. So, this theme is the same between them. And if you like board games alongside this, you are in for a treat!
Number of Episodes: 12 episodes + 1 movie
Personal Rating: 9.80
9. Girl's Last Tour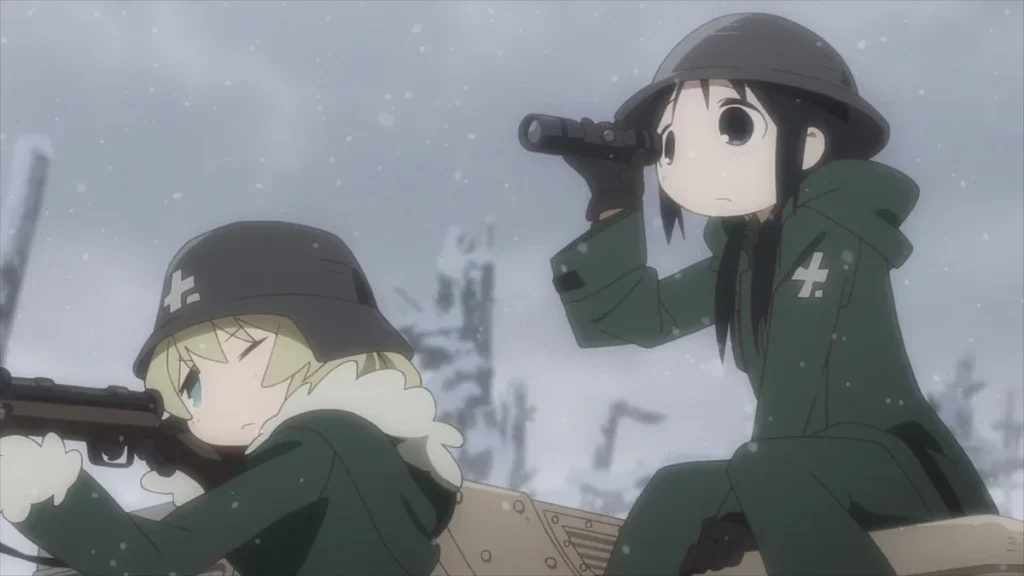 This anime series follows the simple premise of two girls, "Chito" and "Yuuri," who are the last survivors after an apocalypse. The anime follows their daily lives looking for food and supplies and, most importantly, hope in this dark, alone world.
The music director of this anime is the famous "Aketagawa Jin," who has given music to the most popular anime like No Game No Life, Kaguya-sama: Love is War, Toradora, Your Lie In April, and so many many more. So, you can expect some good level music that resonates with the lonesome theme of the anime.
Just like Made in Abyss, the anime follows two little kids traveling. If you liked the dark theme of Made in Abyss, this anime is definitely for you.
Number of Episodes: 12 episodes
Personal Rating: 9.20.
10. To Your Eternity
One day, God descends an Orb onto the Earth, which is referred to as "It." It takes the form of anything that comes near it, starting from a rock, then a moss, and then into an ailing polar bear. As "It" is immortal, it recovers the bear's body as soon as it transforms into it.
He then returns to the bear's owner, a young boy who is waiting for his family to return. But the boy soon gets fed up with the cold weather and decides to set out with his bear. After a few days of the journey, the boy starts to feel so ill that he comes to death's door.
The first episode of this anime has the potential to make everyone cry, and it is a masterpiece like none other. It is done by the same author of the World Famous Slice-of-life Movie "A Silent Voice," i.e., Ooima Yoshitoki. This series follows all the themes of Made in Abyss, yet it also adds the slice-of-life genre to it, which is just unreal.
Number of Episodes: 20 episodes
Personal rating: 9.70.
11. Hunter x Hunter
The premise of Hunter x Hunter takes place in a supernatural world where "Hunters" prevail. Hunters are people who do adverse tasks and travel across the globe. "Gon" is a 12-year-old boy who is a rookie hunter and aspires to be a professional hunter, just like his dad "Ging," and finds him.
During the hunter exam, Gon makes many friends and starts his struggles to become a professional hunter.
This anime is just like Made in Abyss in the sense that both main characters want to follow their parents and look for them. Hunter x Hunter might not be as dark as Made in Abyss, but the mystery of it is second to none. And the world-building of Hunter x Hunter is just as beguiling as Made in Abyss, along with its unique power ranking system.
Number of Episodes: 148 episodes
Personal Rating: 9.00.
12. Somali and the Forest Spirit
This anime series is based on a popular Web Manga that takes place in a world where the human race is almost eradicated. The ones left are only treated as delicacies for the monsters inhabiting the world.
"Golem," a protector of nature, encounters a toddler girl, "Somali." Being a protector, he takes Somali under his wing and starts to look for her parents while protecting her.
Also Read: Anime like Vermeil in Gold
As Somali grows up, she starts to refer to Golem as "Dad," We see feeling-less creatures developing feelings when put on the spot. It has the same vibe as an unknown world as in made in Abyss. This series has a decent slice-of-life factor that might get you teary, but if you enjoyed the world-building of Made in Abyss, this anime is definitely for you.
Number of Episodes: 12 episodes
Personal Rating: 8.90
13. Mushoku Tensei: Jobless Reincarnation
Mushoku Tensei anime series is a modern-day isekai (transported to another world) masterpiece animated by the newly formed Animation Studio "Studio Bind", a studio explicitly created for animating this series.
It follows the story of a 34-year-old man who dies on Earth after a disappointing life and gets re-incarnated into a fantasy world as a baby named "Rudeus." Here he decides to do everything correctly, and thus, he starts living life differently. He makes a girlfriend "Sylphy," and becomes a full-fledged mage under his teacher "Roxy."
Rudeus even takes on an apprentice because of his popularity as a young mage. His apprentice is a royal princess "Roxy." One day, when they are training, a strange light strikes the Earth and destroys their whole town. Now, everyone that Rudeus knows gets spread throughout the world, and Rudeus now goes on a journey to find his loved ones.
The animation quality of this anime is on another level. The studio even came up with a new language for this anime. The animation, the music, the opening and ending scenes, everything makes sense in this anime. And just like Made in Abyss, this series is about venturing into a new place and looking for your loved ones (which in Mushoku Tensei are the loved ones of Rudeus, and in Made in Abyss is Riko's Mother).
Number of Episodes: 23 episodes
Personal Rating: 10.0.
14. Spirited Away
It is the only anime film to receive an Oscar Award to this date, which says a lot of things about this anime. It follows the story of "Chihiro," a 10-year-old girl who enters an abandoned theme park with her parents on a whim.
But soon, she started to see supernatural things around her and witnessed her parents becoming pigs. Now, she is looking for help when she realizes that she is transported to another world where supernatural creatures live together.
Chihiro meets "Haku," a young-looking boy who wants to help her because he thinks he is indebted to her. Chihiro musters up the courage and tries to live in this world by working hard. The music of this anime is magical, just like the anime's theme. It follows the "journey through a new place" theme, just like Made in Abyss. It might not be dark, but it fills it up with the slice-of-life element.
Number of Episodes: 1 movie
Personal Rating: 9.90.
15. Dr. Stone
This anime series takes place in Modern Japan, where everything is going as usual. One day, a mysterious light enters Earth's atmosphere,, turning every human into stone.
Millennia later, a teenage boy "Taiju" wakes up from deep slumber, realizing that the world has gone back to the Stone Age as every modern technology has been destroyed. After some time, he founds his science-freak friend "Senku," who had been awakened months before Taiju and has already started working on finding survival items.
Also Read: Top 8 Manga To Read in 2022
Now, Senku has only one aim, to bring the world back to normal through modernization at a rapid rate. So, Senku and Taiju start to revive people from Stone State to gather workforce for Senku's grand plan. But will every person comply with their ideas?
Even though it takes place in the same world as ours, you will realize how modernization has changed the world, and now, it is just a pollution-free land everywhere. This makes this anime series an anime just like Made in Abyss with a little chemistry factor added!
Number of Episodes: 35 episodes + 1 special
Personal Rating: 9.50.
What are your thoughts on the "15 anime like Made in Abyss" recommendations? Do you think we missed out on an anime similar to Made in Abyss? Let us know in the comment section down below.