When it comes to horror, it can be hit or miss depending on how it's consumed. Sometimes, the story can be too dull and fail to create a truly scary experience, while other times it can unintentionally become comedic and lose its impact. One example of this is the Anime Exception. As a beginner to this genre, it's important to seek out proper recommendations before diving in. We're here to offer guidance and recommendations for horror manga.
We've compiled a list of our top 6 horror manga recommendations that will get you hooked on this genre. These manga series feature straightforward yet captivating storylines and stunning artwork, which is a major draw for fans of the horror genre.
Please note that this list only includes series that are purely horror, so you won't find titles like Parasyte, Tokyo Ghoul, or Berserk here.
6. Black Paradox
Author Name: Junji Ito
Number of Chapters: 8 Chapters (1 Volume)
Let's kick off our recommendations with one from the master of horror himself, Junji Ito. "Black Paradox" is a newer project by Ito, first serialized in English on October 25, 2022. This manga stands out from Ito's other works as it places a greater emphasis on the story rather than the art style, though the artwork is still top-notch. The story is intriguing and accessible to new manga readers.
"Black Paradox" follows the lives of four individuals who come together on the self-destruction website, Black Paradox. The manga centers around Maruso, a nurse who despairs about the future, Taburo, a man tormented by his counterpart, Pii-tan, an engineer who has created a robot clone of himself, and Baracchi, a woman self-conscious about the birthmark on her face. Together, they search for the perfect way to self-destruct each day.
5. Ibitsu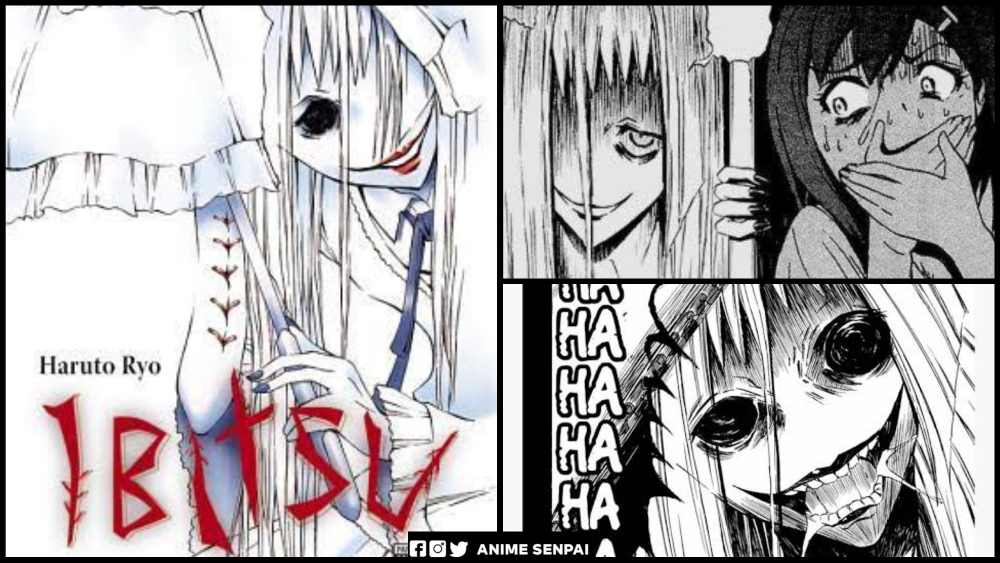 Author Name: Ryou Haruto
Number of Chapters: 15 Chapters (2 Volumes)
If you're part of the otaku community, you've likely heard of "Ibitsu." This manga boasts a unique storytelling style and a somewhat enigmatic art style. At first glance, the story seems comedic due to the presentation of the characters, but things take a sharp turn into madness from a single panel. For those who enjoy thrillers and suspense, "Ibitsu" serves as a perfect starting point.
"Ibitsu" centers around a high school boy named Kazuki, who discovers a strange girl sitting on a heap of garbage near his home. This girl, who introduces herself as "Ibitsu," resembles a grotesque parody of a doll, with a cracked and disfigured face. She demands that Kazuki make a "pledge" to her. As Kazuki becomes more involved with Ibitsu, he discovers the dark aspects of her.
4. Mieruko chan
Author Name: Izumi Tomoki
Number of Chapters: TBA (7 Volume at the moment)
"Mieruko-chan" is a name you might have heard before because of its anime adaptation. Despite being a pretty good horror anime, it recieved average ratings. The main selling point of this manga is the facial expressions of the heroine, Miko. Whenever she witnesses a ghost, she tries not to make a hilarious expression. The comedy-horror vibe of this manga will hook you into this genre.
"Mieruko-chan" is about a high school girl named Miko who can see ghosts and supernatural beings. Despite her fear of them, she tries to keep her ability a secret and live everyday life. However, encountering more terrifying entities, she realizes she cannot ignore them anymore. With the help of her friend Hana, Miko tries to find ways to cope with her terrifying experiences while also uncovering the mysteries behind the supernatural world.
3. Kiriko & Kiriko Kill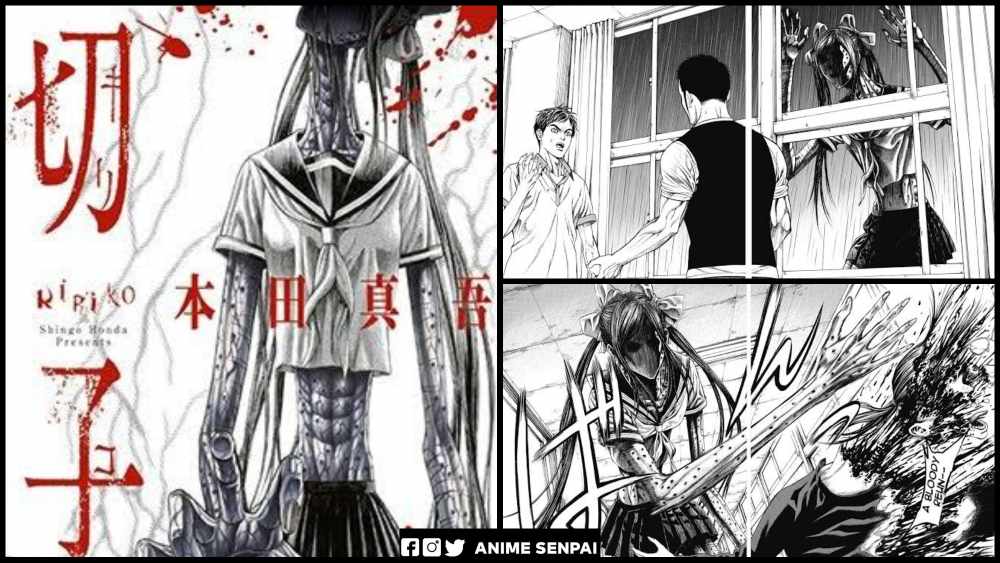 Author Name: Honda Shingo
Number of Chapters: 13 Chapters (2 Volumes)
"Kiriko" is an underrated horror series that has yet to be officially translated into English. The art style of this series is strikingly realistic, and while the storytelling may have some room for improvement, the horror element is taken to its maximum limit. Honda Shingo is considered one of the best horror manga artists of his generation, standing alongside the likes of Junji Ito. If "Kiriko" hooks you on the horror genre, be sure to follow Honda-sensei's work regularly.
The story of "Kiriko" follows a group of friends who reunite after a long time since their school days. They were invited by someone named "K," who they suspect may be their childhood friend, Kiriko, who had passed away. As time passes, each member of the group starts to be grotesquely murdered. But what secrets does this gathering hold, and why did Kiriko call them all back to the school after so many years?
2. Hideout
Author Name: Kakizaki Masasumi
Number of Chapters: 9 Chapters (1 Volume)
"Hideout" is an older manga that has yet to receive an official English serialization. However, it makes it to this list due to its bizarre and captivating art style that draws the reader in with each panel. As the story progresses, the panels take on an eerie and unsettling feeling, making the ending all the more impactful. While the storyline may seem ordinary, the suspense created throughout the manga is guaranteed to give you chills.
The story of "Hideout" follows a couple who have recently lost their son. In an attempt to overcome their grief, they travel to the quiet and remote Southern Areas. Upon arriving at their cabin, the husband, Seiichi, reveals a plan to end his wife's life and bury her in the area. After hearing this, the wife escapes to a nearby cave, but what she discovers inside may change everything she has experienced so far.
1. Venus in The Blind Spot: Best of the Best Junji Ito Collection
Author Name: Junji Ito
Number of Chapters: 10 Chapters (1 Volume)
If you're a horror fan, "Venus in The Blind Spot" is a must-read and if possible, get a physical copy because its the ultimate collectible item to own. This masterclass book contains a collection of Junji Ito's best short stories, including "Venus in The Blind Spot," which also features colored panels that add to the reading experience. Additionally, the book contains posters at the beginning and a sketch with Junji Ito's autograph at the bottom, making it well worth the investment.
The short stories in this manga are truly captivating. Along with "Venus in The Blind Spot," the book includes "The Human Chair," where a woman gets offered a pretty strange chair, "Billions Alone," where people start to see strange murders with people gets attached together, and "An Unearthly Love," a twisted love story between a man and a doll. Other stories featured in the book include "The Licking Woman," "Master Umezz and Me," "How Love Came to Professor Kirida," "The Enigma of Amigara Fault," "The Sad Tale of the Principal Post," and "Keepsake."
Also Read: Horror Legend Junji Ito to Design Cover Art and Write Introduction for an International Horror Anthology
What are your thoughts on this list? Will you give the horror genre a try after reading this list? Let us know in the comments down below!