Updated on April 9th, 2022
As of March 6th, 2022 another long-running, fan-favourite manga has officially come to a close. Just a week and a half ago we said goodbye to Fire Force, which had been running for a total of 6 years. Today we witness the end of Dr. Stone on the manga's 5th anniversary as well. We've known this day was nearing for some time now, but it's still a bit saddening to see another series go.
However, the series coming to a close isn't all sadness, since we do get to see the characters get the satisfying ending they all deserve. With that in mind, and with the ending now officially out, let's break down the final chapter and see where the series leaves our favourite characters. Please keep in mind that there will be heavy spoilers ahead. So if you haven't read the latest chapters, go do that and come back!
Taiju Oki & Yuzuhirha Ogawa
To start this list off right, let's start it off with Senku's best friend, and the second person to have broken free from stone, Taiju Oki. As well as the person that fueled the survival of Taiju, and the third citizen of The Kingdom of Science, Yuzuhirha Ogawa! With Taiju's love for Yuzuhirha (one that lasted over 3000 years), and Yuzuhirha's supposed feelings for him it's only right that these two have officially sealed the deal in Dr. Stone's final chapter.
That's right, you read that correctly! Everyone's favourite fanship is now canon, and not only are the two dating but they got married! And it only took them about three millennia or so, good for them! With the threat of the Why-Man and petrification gone, Taiju and Yuzuhirha waste no time getting married and having their wedding. And after everything they did, you know restoring all of humanity, it's pretty well deserved!
The last we see of Taiju and his now-wife, Yuzuhirha, they are watching Senku as he reveals his latest invention, the time machine!
Chrome & Ruri
Taiju and Yuzuhirha aren't the only couple coming together in this series finale! Though saying that these two "come together" might be too much of a stretch… In the final chapter, we get to see Chrome and Ruri as they welcome Senku and the rest of the space voyagers back to the Kingdom of Science! But the real fun doesn't start until after the time skip.
Thanks to a quick little time skip we actually get to see Ruri and Chrome in a sort of modern-day setting. With humanity now nearly restored to its former glory, all sorts of amazing 21st-century tech can be seen. But instead of marvelling at these sights, Ruri can instead be seen watching onwards as Taiju and Yuzuhirha become newlyweds. And Chrome, he's doing what he does best, some baaad science! While the wedding is happening, we get to see this cute moment between Ruri and her sister, Kohaku where she teases her sister about Chrome. But Ruri surprises both her sister and readers when she says that Chrome actually approached her the other day and told her that after his science project is over they should get married too! To which a very flustered Ruri agrees with him and accepts!
Again, much like the couple above this, the last we see of Chrome and Ruri they are both present in the lab as Senku reveals his latest invention!
Kohaku
Speaking of Kohaku, the "Lioness" of the Science Kingdom has been through a lot since the start of the series. And that doesn't stop here in the final chapter! Upon landing on Earth after her moon voyage Kohaku can be seen receiving a medal alongside the rest of the Senku 11 crew. She does seem to be sleeping after receiving the medal, so it's fair to assume she isn't too excited.
The next time we see Kohaku she's at Taiju and Yuzuhirha's wedding living up to her nickname as she goes down on some steak. Afterwards, as the wedding wraps up Kohaku goes to tease her older sister about her relationship with Chrome, seeing as how one couple just got married. And we all learned how that turned out!
Suika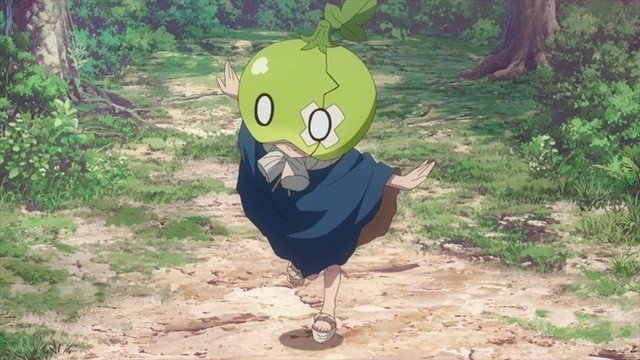 Next up we have everyone's favourite sneak Suika! But as we all know Suika isn't just the Kingdom of Science's spy anymore, as of this latest arc Suika is actually one of Seku's fellow scientists! The young Ishigami villager started her journey of science when she revived Senku and everyone else after they got hit with a petrification beam, from there she only improved, to the point where she and Chrome were able to design a return ship for Senku's rocket!
Though the series has officially come to a close, Suika's journey of science is nowhere near over! In the final chapter she can be seen alongside Senku, Chrome, Kaseki, Xeno, Sai, and other members of the science team as they, alongside Senku reveal their latest baaaad project, the time machine!
Gen Asagiri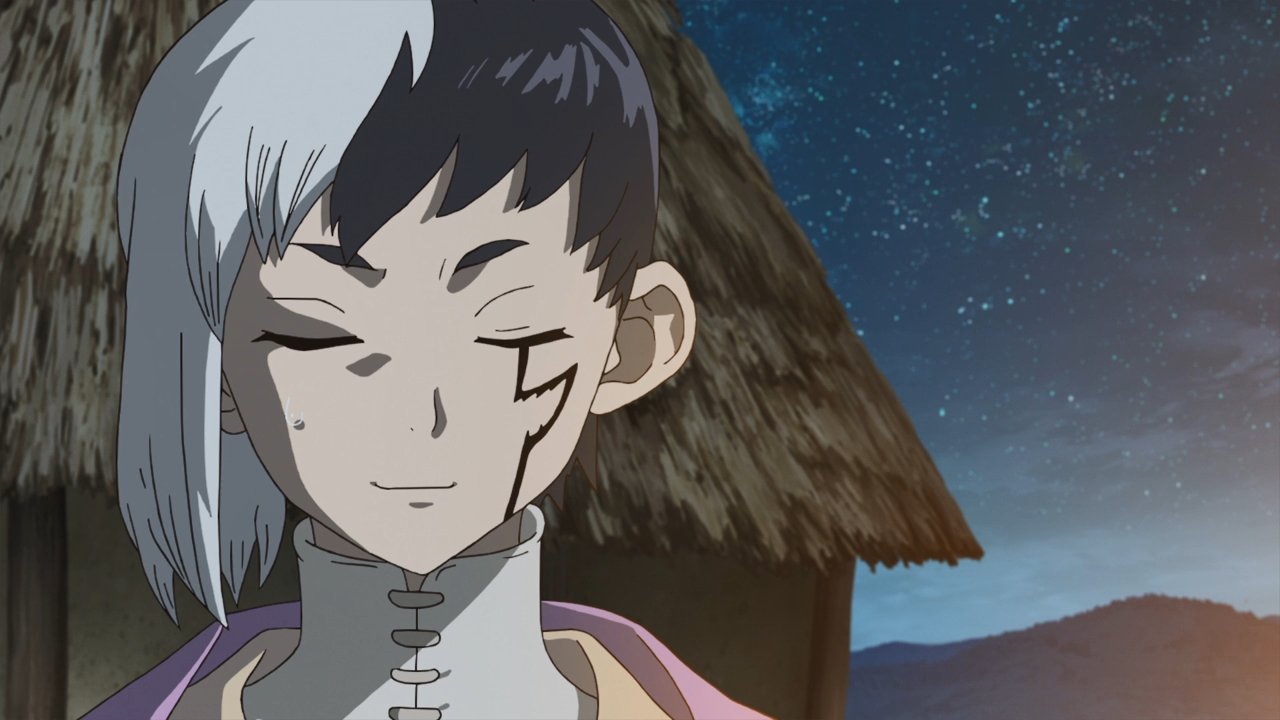 Next up we have the Kingdom of Science's resident mentalist, (and probably the only mentalist), Gen Asagiri! Gen's come a long way from when he first appeared in the series as a member of Tsukasaka's Empire. From defecting and becoming loyal to the Kingdom of Science to being forced to do manual labour by Kaseki, Gen's has definitely come a long way throughout the series.
And his journeys don't stop in this final chapter, in fact, I would say his journeys become even grander! With humanity now restored and nations slowly building back up, Gen works as a sort of diplomat in between the Kingdom of Science (Japan) and the rest of the world. However, much like a certain advisor from another anime, Gen finds his work tiring and is much happier back home in Japan.
And return he does, this time for the big wedding! After greeting all of his friends Gen rushes forward alongside Taiju to see what Senku's up to, only to see his new ginormous invention! From there he's only met with more surprises as Senku announces that he's building a time machine. However, Gen has no doubt that Senku cannot achieve this goal, in fact, he goes as far as to say, "humanity could really pull this off." And with that, the series closes out.
Tsukasa Shishio
Perhaps the most interesting character to take a look at within this series finale is Tsukasa Shishio! Fans of the series will remember that Tsukasa originally betrayed Senku and created his own empire, before folding himself back in with the Kingdom of Science. Tsukasa also did not agree with the Kingdom of Science's way of things, hence the reason he created his own empire.
But now it seems in the final chapter Tsukasa has done some reflecting, and not just some, it seems that he's been reflecting this whole time. During the wedding, he exclaims that basically, he was wrong. Xeno, Hyoga, and himself all tried to prevent more inventions and the eventual rebirth of humanity and its old hierarchy system. But it seems that thanks to the success of science, he no longer has to worry about that grim possibility. Rather than looking at the future, Tsukasa should be looking into the past and what he can change, thanks to Senku's latest creation, and Dr. Stone's final invention!
Senku Ishigami
Of course, if we are going to do a list of every character in Dr. Stone and their fates, we can't forget the main character! Through the other characters, I think we've already covered most of what Senku's been up to in the series finale. But let's still go over what the mad scientist of the Stone World has been up to!
With a majority of humanity restored and prospering, it seems Senku has moved on to his next project. Saving those he couldn't save, by going into the past! But before that he's got to attend his best friend's wedding, as Senku would say, the Big Oaf's been waiting over 3000 years for this!
Humanity's been restored and science is progressing past the stages of the 21st century. Even launching backwards into the past, so in the words of Senku himself, "get excited!"
And with that, the amazing Dr. Stone series comes to an end! What do you think of the ending? Do you think it gives your favourite characters the ending they deserve? And now that the series is officially over, what would you rate the series overall? Let us know your thoughts and answers down below!
We also did an article similar to this one, focusing on Fire Force characters and what they are doing post finale! So if you liked this article and want more, be sure to go check that out!
For more news about everything anime and manga, be sure to visit our main Anime Senpai page! We have new articles daily, so until next time, stay tuned!