Published on October 1st, 2022
Nowadays, anime has become more diverse and complicated. Unlike the old days, when there were hardly 10-25 anime per year, almost 300 anime serials are now being animated annually. So, as it is not possible for an ordinary person to watch this much anime, people create standards. Some standards include looking at the source of the anime, some include looking at the genre of the anime, and some include looking at the animation studio.
Animation studios made anime from a local to an international phenomenon as time passed. They elevate the source material and make it a blockbuster series (for instance, Hunter x Hunter). Sometimes, studios portray the source material in the wrong way (bad animation, skipping material) and make it a disaster. Seven Deadly Sins, Berserk, and The Promised Neverland fans are some anime that got bad adaptations. So, checking an anime studio pretty much tells you if the anime will be worth watching or not.
Here, we will rank the top 12 anime studios based on their quality and consistency in putting out quality anime for the masses.
Note: We are not including Anime Film Studios like Studio Ghibli and Comix Wave because movie production time is a lot more relaxed than TV series production.
12. Kinema Citrus Co.
Foundation Date: March 2008
Famous anime series: Made in Abyss, Rising of the Shield Hero, Barakamon
Just like most animation studios, Kinema Citrus was started by the former members of other studios, (Production I.G and bones studio). Muneki Ogasawara, Yuichiro Matsuka, and Masaki Tachibana were the business directors who inaugurated this animation studio.
In 2019, Kinema Citrus announced the partnership with Kadokawa (an anime conglomerate) and Bushiroad (a Japanese entertainment company), and to this day, these three companies are still together and making anime.
To be honest, many animation studios are better than Kinema Citrus and should make into this list. The only reason they made it into this list is the anime adaptation of Made in Abyss. Kinema Citrus is not famous for its good animation or cinematography, but the work they did on Made in Abyss is nothing less than a masterpiece.
11. WHITE FOX
Foundation Date: April 2007
White Fox Studio was founded by the former member of Studio OLM, Gaku Iwasa, and his team. This studio is further branched out into two studios for anime production i.e. The White Fox Tokyo Studio (for professional animators) and The White Fox Izukōgen Studio (for training new and young animators). The education at Izukōgen Studio is managed by the former P.A. Works animator Aya Takeda.
In 2018, White Fox started a new studio, with the collaboration of Egg Firm Inc. (an anime management company), named "Studio Bind." Studio Bind was created solely for the anime adaptation of the famous light novel series "Mushoku Tensei."
White Fox has been consistent in giving us TV anime series regularly. Their animation style is unique and straightforward. The CGI of this studio is not that bad, and their cinematography of them is impressive. Other than their famous anime series, they have many underrated anime, such as Cautious Hero, The Devil is a Part-timer, etc.
Future Anime Projects: TBA (To Be Announced)
10. Production I.G.
Foundation Date: November 2007
Famous Anime series: Haikyuu!, Guilty Crown, Blue Spring Ride
Production I.G was founded by two members, Mitsuhisa Ishikawa and Takayuki Goto. The name "Production I.G" also came from the names of these two founders i.e. I (Ishikawa) and G (Goto). This studio has three divisions which divide the total work.
The "I.G Digital" division is responsible for general animation duties. The "I.G 3D" is responsible for CGI and three-dimensional imagery animation. And the "Production I.G USA" is a branch in the USA which mainly handles the advertisement and regular studio affairs.
Production I.G has been known for its aesthetic CGI animation. Where many animation studios suffer in this field, this studio does this job flawlessly. Even other studios borrow animators from the I.G 3D studio just to get a good animation. Besides its famous anime seasons, it has recent hits like Ao Ashi, and Kimi no Todoke.
9. Ufotable, Inc.
Foundation Date: October 2000.
Famous Anime: Demon Slayer, Fate/Zero, Fate/Stay Night: Unlimited Blade Works
Founded by the former member of TMS Entertainment and Telecom Animation Films Studio Hikaru Kondou, the start of Ufotable studio was not very bright. They usually did ugly adaptations of some manga series, which led to them having a bad reputation.
But after a while, the adaptation of "The Garden of Sinners" showed everyone how they are a pretty good studio. Since then, if you see the name of this studio in an adaptation, it is a confirmed hit among the fans.
Ufotable has been in the spotlight since it started adapting the manga series Demon Slayer. Before that, it was only known for adapting the Fate franchise and commercials for games. They are mainly known in the anime community for using creative colors and outstanding animation visuals.
The CGI of Ufotable is also remarkable, making adaptations look out of this world. Ufotable recently made a long-term partnership with miHoYo to animate the Genshin Impact anime series.
8. Studio Pierrot
Foundation Date: May 1979
Famous Anime series: Naruto, Bleach, Black Clover, Tokyo Ghoul, Yu Yu Hakusho
Studio Pierrot is named after the image in their logo, which is a joker (as "Piero" in Japanese means Joker). Founded by the former members of Studio Tatsunoko and Mushi Production, Studio Pierrot has been in the highlights since its start. It is responsible for adapting most of the worldwide famous anime series.
Other than their famous Shounen anime projects, an anime named "Akudama Drive" was a nice change of pace by a studio that showed a different type of animation from what they are known for. Although they consistently put out anime every year, their animation can sometimes be pretty wacky.
7. A-1 Pictures
Foundation Date: May 2005
Famous Anime Seasons: Sword Art Online, Your Lie In April, Fairy Tail, Seven Deadly Sins, Anohana
A-1 Pictures was founded by the former producer from Sunrise Studio, Mikihiko Iwata, and was established by the anime entertainment company Aniplex to animate manga and light novels.
It is divided into different departments according to different works just to make everything manageable. In 2018, the Koenji Studio of A-1 Pictures was renamed as a separate studio as "CloverWorks," and it later separated from the original studio, but still remained under Aniplex.
A-1 Pictures has been consistent with releasing at least one anime every year since the start. However, in recent times, A-1 Pictures has been working on multiple anime adaptations. Besides its famous anime series, its most recent project, "Lycoris Recoil," has been a pretty big hit, which is very rare for an original anime series.
6. Toei Animation
Foundation Date: January 1948
Famous Anime Seasons: One Piece, Dragon Ball, Yu-Gi-Oh!, Slam Dunk, Sailor Moon
This is the studio that started it all. Toei Animation is the first animation studio in Japan, and it started the legacy of giving quality animations to fans worldwide. Toei animation was founded by two talented animators, Kenzō Masaoka and Zenjirō Yamamoto as a standard Japanese animation studio.
The studio was later purchased by the company Toei and named Toei Doga Company. This was changed to "Toei animation" later on. This studio has many subsidiaries in different countries and shares in many big animation studios.
Toei Animation has been the most consistent studio as it has been releasing anime since it started. It is responsible for the animation of two of the Big Three manga series. Toei might get slacked on the animation perspective sometimes, but it never fails to portray the message of the source material.
Future Anime Projects: The First Slam Dunk Movie, Pretty Guardians Sailor Moon Cosmos Movie, Akuma-kun
5. Madhouse
Foundation Date: October 1972
Famous Anime Seasons: Death Note, One Punch Man Season 1, Hunter x Hunter (Remake), No Game No Life, Parasyte: The Maxim
Masao Maruyama, Osamu Dezaki, Rintaro, and Yoshiaki Kawajiri founded this company after they left the Mushi Production Studio. It was created to give anime fans TV anime series and OVA episodes.
From animating classics like Death Note and Hunter x Hunter to adapting psychological thrillers like Parasyte: The Maxim and Monster, Madhouse has a history of pumping out quality anime. Madhouse studio has collaborated with many English studios like Marvel studios.
Madhouse recently collaborated with Mappa studio to produce Takt op Destiny, an original anime series. Hopefully, Madhouse will return to animated One Punch Man season 3.
Future Anime Projects: Bibliophile Princess, My Love Story with Yamada-kun at Lv999 and Kin no Kuni Mizu no Kuni.
4. Wit Studio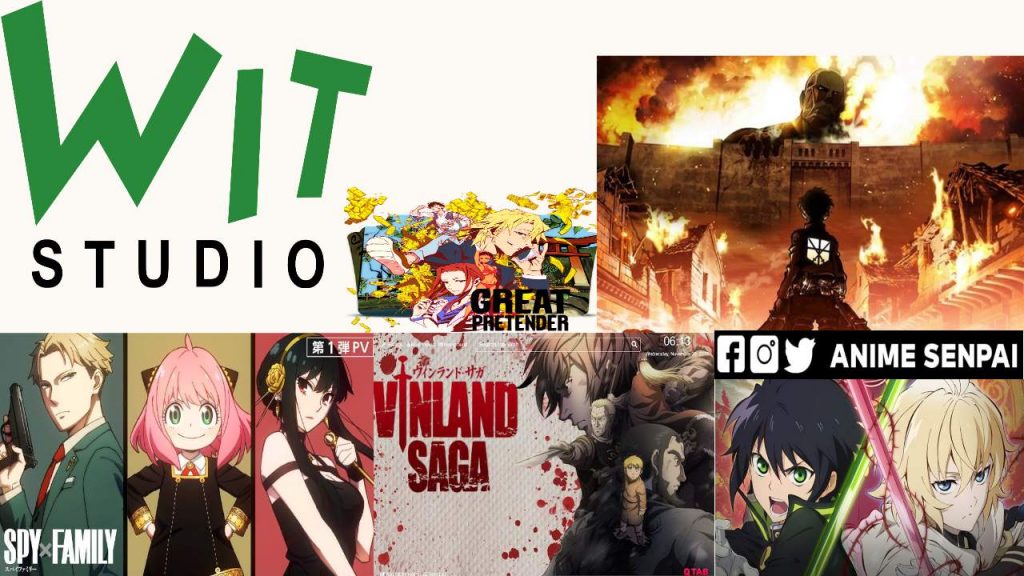 Foundation Date: June 2012
Famous Anime series: Attack on Titan, Vinland Saga, Seraph of the End, Great Pretender, Spy x Family
Wit Studio was founded by former Production I.G staff member George Wada.
Wit studio is a master in doing aesthetic CGI animations, which were shown in the anime adaptation of Attack on Titan and Vivy: Flourite Eye's Song. Wit Studio announced that it had gone bankrupt after not paying taxes. This made them unable to do manga and light novel adaptations, and they had to handover the Attack on Titan season 4 to Mappa Studio.
Wit Studio has a bitter-sweet place in the hearts of anime fans after it dropped Attack on Titan on season 3 and MAPPA took over. However, recently, Wit studio has recovered from the losses, thanks to the Spy x Family series, which is one of the biggest anime hits of 2022.
Other than their famous projects, their original anime series have been a hit, which includes Ranking of the Kings and Vivy: Flourite Eye's Song.
3. MAPPA
Foundation Date: June 2011
Famous Anime Seasons: Jujutsu Kaisen, Dororo (Remake), God of High School, Yuri!! on Ice, Kakegurui
MAPPA (Maruyama Animation Produce Project Association) is the modern-day master of animation studios. It was founded by the co-founder of studio Madhouse Masuo Maruyama as he got fed up with the tight schedule and low pay in this studio.
He put this studio together for the young talents by offering them good salaries and an opportunity to work as a professional. He later left this studio, too, and founded Studio M2. But his departure didn't affect the production of anime in the studio.
You will probably see MAPPA as #1 in most lists because of the few anime projects it has put down with perfect animation. Their initial days were hard because they didn't receive any funding, but later on, they went to the headlines, and to this day, they are a phenomenon. Their not-so-famous anime projects include Re-Main, Takt Op. Destiny, Banana Fish, etc.
2. bones
Foundation Date: October 1998
Famous Anime Seasons: Full Metal Alchemist, My Hero Academia, Mob Psycho 100, Soul Eater, Bungou Stray Dogs
Bones Studio was founded by a former producer of Studio Sunrise, Masahiko Minami, and animators Hiroshi Osaka and Toshihiro Kawamoto. The first anime of these three talented artists was a collaboration with their former studio on a Cowboy Bepop movie. Since then, Bones has been adapting anime pretty efficiently.
They have divided their studio into five divisions (A-E), with each part responsible for a specific anime; for instance, Studio B is responsible for the Mob Psycho 100 adaptation, Studio C for My Hero Academia, and Studio D for the Full Metal Alchemist adaptations.
Bones Studio has been a very dedicated studio from the start in anime adaptations. Primarily famous for its unique animation and excellent music production, this studio has been consistent throughout the years in getting out anime and quality animation. Their not-so-famous projects include Sk8 the Infinity, Carole and Tuesday, and Space Dandy, which are all pretty decent anime adaptations.
Future Anime Projects: Bungou Stray Dogs Season 4, My Hero Academia Season 6, Mob Psycho 100 Season 3
1. Kyoto Animation (KyoAni)
Foundation Date: July 1985
In 2019, the world was shocked when they heard the news of an arson attack on an anime studio. A lot of critical people were injured, and some died. But only after a year or so did the studio come back to producing anime because it received donations from around the world.
KyoAni was founded by a married couple, Yoko and Hideaki Hatta, and it is the only studio on this list that is also a light novel publisher. KyoAni organizes awards in which manga and light novels are awarded a chance to get an anime adaptation by the studio.
KyoAni holds a special place in the hearts of anime fans who have been watching anime from the modern era, which makes it the best animation studio in Japan. Mostly making slice-of-life genre anime, it is responsible for the adaptation of most of the famous anime in the 2000s to this day.
KyoAni has not been that consistent after the arson attack, but we hope it will regain its spark soon enough. It is famous for its serene animation and calm atmosphere of anime.
Future Anime Projects: Tsurune Movie: Hajimari no Isha, Tsurune Season 2
We all know that there is no perfect list and this is just our opinion. So, do you think we missed your favorite animation studio on this list? Let us know in the comment section. We here at Anime Senpai would love to hear from you.